Good food makes a good mood truly hold great significance. From making you feel energetic to boosting your mood, having a good and tasty meal offers a whole host of benefits. This weekend, give yourself a much-needed break from the kitchen.
Why not try some authentic Peruvian dishes at Mission Ceviche? Mission Ceviche is a one-stop destination for all Peruvian food lovers.  Situated in New York, this Peruvian restaurant offers everything from starters to appetizers, and beverages to cater to your Peruvian food requirements. Be it a family event, birthday party, or romantic dinner date, the place is perfect for making your day extra special and memorable.
That's not all. There is much more about this amazing restaurant that may excite you to book your table. In this comprehensive article, we have mentioned in-depth information about Mission Ceviche. So, before your mouth starts watering, let's dive in.
Story Of The Peruvian Restaurant – Mission Ceviche
Mission Ceviche is truly a paradise for Peruvian food lovers. The restaurant is committed to bringing food lovers together in a welcoming and vibrant atmosphere to help them share bouts of laughter and create long-lasting memories while enjoying mouth-watering dishes. The restaurant is owned by two creative minds named Chef Jose Luis Chavez and Brice Mastroluca who aim to offer the best flavors and dishes of Peru to satisfy your taste buds. Made up of the freshest ingredients, all dishes taste extremely delicious and scrumptious.
Chef Jose Luis Chavez founded Mission Ceviche to pay tribute to the Peruvian custom of gathering people and spending some time over meals, sharing food and beverages, while creating good memories. Chef Jose Luis Chavez and Brice Mastroluca together founded Mission Ceviche to pay homage to family members, buddies, co-workers, and the other people and experiences that changed the trajectory of their life.
Talking about Brice Mastroluca has more than 20 years of industry experience in fine dining establishments and has worked as a chef, mixologist, sommelier, and general manager. It was in the year 2015 when both Brice and Chef Jose Luis were in France during the Cannes Film Festival, where they observed people's immense love for ceviches which is a popular Peruvian dish made from fresh raw fish served with fresh citrus juices like lemon or lime. This was when they got an indication and within 2 months of their France trip, Brice convinced Chef Jose Luis to start Mission Ceviche.
An Overview Of Peruvian Cuisine
Peruvian cuisine is not something that has yet to be introduced in the food industry. It is one of the oldest cuisines that showcases local practices and ingredients.  Some of the traditional staples of Peruvian cuisine include corn, potatoes, legumes, wheat, meats, quinoa, and many more.  As per Eric Asimov who is a famous American wine and food critic, Peruvian cuisine is one of the world's most important cuisines all credit goes to its long and rich multicultural history.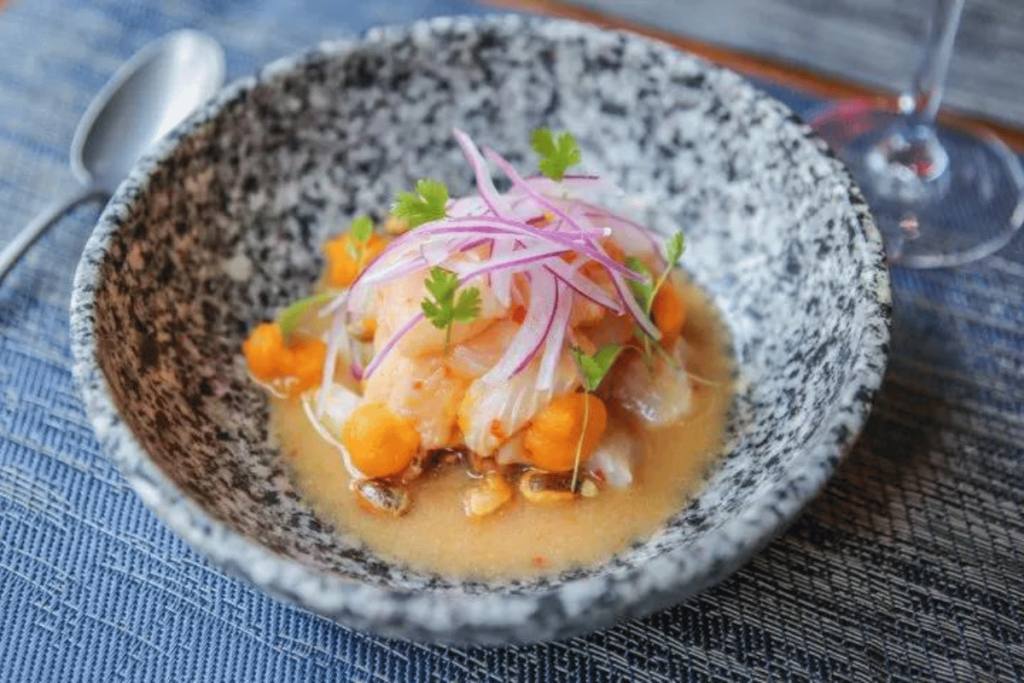 Vast Menu Of Mission Ceviche
Mission Ceviche is an ideal food destination for people who are huge fans of Peruvian cuisine. The restaurant serves a wide variety of tasty and delicious Peruvian dishes made from the best and freshest ingredients. Be it food or beverage, all the menus are inspired by the culture and ecosystems of Peru. From ceviches to toasts, cocktails, wine, and beverages, the restaurant offers something for every Peruvian food lover, making it one of the favorite destinations of customers. You name it and they have got it.
Whether you are craving dessert or want to taste a Ceviche bar, the restaurant offers everything to cater to your food requirements. What are you thinking of? Make your reservation now and get ready to taste some of the best Peruvian dishes. Not in the mood to travel to the restaurant? Not an issue! The restaurant also offers delivery & pickup services to let you enjoy good food in the comfort of your home.  The best part is that the restaurant offers free food delivery services up to 2 miles.
Great Ambiance Of The Restaurant
Enjoying good food in a good ambiance is the icing on the cake. Mission Ceviche offers a welcoming and excellent atmosphere to provide you with a seamless dining experience. The restaurant has a patio and dining area. So, you can choose any option and enjoy the meal with your loved ones. Plus the restaurant's interiors scream luxury and opulence, making it a perfect place to celebrate your special days.
Further, the customer service of the restaurant is at another level. High professionalism, excellent quality food, and a wide variety—all make Mission Ceviche a must-visit restaurant to enjoy Peruvian cuisine in New York. You can even check the Mission Ceviche photos on Google.
Closing Words
With a rich history and several influences, Peruvian cuisine covers a wide number of dishes worldwide.  So what are you waiting for? Explore the delights of Peruvian cuisine at Mission Ceviche.
Tags :