Gone are the days when businesses used to work with tedious excel sheets and legacy systems. Today's competitive era is dominated by tech trends for enterprises that speed up the digital transformation process. 
Whether we calculate your employee's salary and working hours, hire a new employee, track your company assets, or even communicate with your clients, there are custom digital solutions and services that can solve all business problems.
In fact, digital solutions and tech services have become so common that the industry is expected to cross the mark of $1247.5 billion by 2026. 
So, why are you falling behind when the world is leveraging the best enterprise solutions and services? Today's article has revealed the top five major tech trends for enterprises your company should adopt in 2022!
Tech Trends for a Successful Business in 2022
1. Process Automation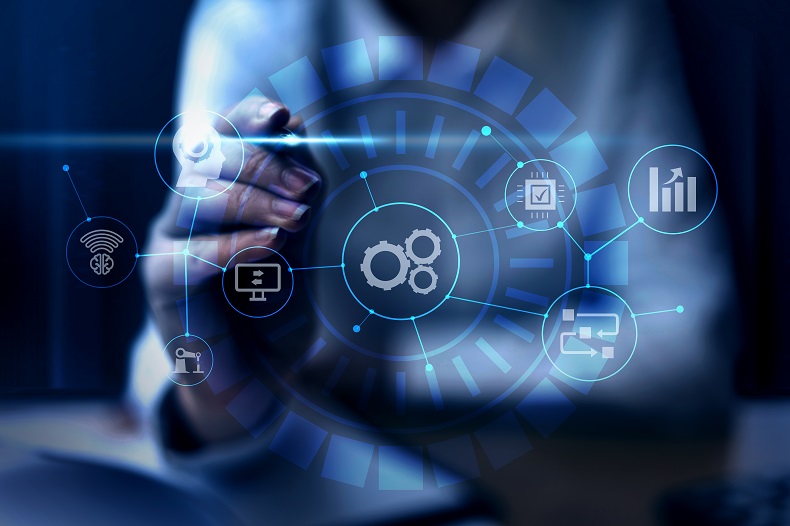 Process automation is one of the very popular tech trends for enterprises in 2022. Companies today have much more than managing complex sheets and doing all the laborious work. That's why most enterprises today have integrated digital solutions to automate their business operations. 
With next-gen technologies like AI, IoT, Blockchain, AIoT (artificial internet of things), AR/VR, and IIoT(industrial internet of things), companies are experiencing better and faster business operations.
They can easily deploy chatbots to automate their customer support services or can integrate computer vision solutions to promote self-checkout in retail stores. Moreover, legacy modernization services are also becoming a part of the digital transformation for companies in 2022.
2. Cloud Computing
Another robust tech trend for enterprises that have gained momentum in 2022 is cloud computing. Although cloud computing is not a new trend, its adoption has increased significantly in the past few years. Small or large businesses actively invest in cloud computing to accelerate their digital transformation journey. 
And why not? Cloud offers data security, high performance during peak loads, fast data analysis, and complex calculations in less time. Furthermore, the ability to securely store a vast amount of data in the cloud and use it to generate useful business insights is a perk of adopting cloud computing for your business! Hence, companies, irrespective of their domains, are embracing this robust tech trend for enterprises.
3. Cybersecurity
When it comes to the top tech trends for enterprises, cybersecurity always tops the list. With each passing day, companies experienced cybersecurity concerns are increasing exponentially. Data thefts, ransomware attacks, and loopholes in legacy systems have increased the issues for large enterprises. 
That's why companies today are investing heavily in this robust tech trend. They are implementing the best cybersecurity practices in their businesses and consulting with the best cybersecurity firms to safeguard their business data. Moreover, using blockchain to facilitate secure digital transactions has become common in large enterprises. 
Security testing and functional testing are some of the security practices in the custom software development market. In short, cybersecurity is one of the tech trends for enterprises that is gaining high momentum in 2022
4. Staff Augmentation
Digital transformation has not become a big thing only in large enterprises but even in small startups or medium-scaled businesses. Businesses from every industry accept digital change to boost their revenues and brand value and optimize their processes. However, having dedicated resources experienced in promoting your company's digital transformation journey is vital.
That's where this robust tech trend for enterprises comes into play! Most small or large companies are adopting staff augmentation services to get dedicated and talented resources for their development projects. 
From consultants, business architects, and project managers to developers, testers, and content creators, you can easily get talented resources that work only for your project at flexible pricing models. You can hire them remotely for cost-effective product development using staff augmentation services.
5. Data-Driven Business Decisions
Lastly, we have data-driven business decisions as one of our top tech trends for enterprises in 2022. In today's competitive world, data has become one of the crucial assets for companies irrespective of their size and niche. Whether retail, education, real estate, or even healthcare, businesses worldwide have begun to invest in digital solutions and services that help them receive meaningful insights from data.
Businesses rely on cloud solutions to store a vast amount of data generated from smart tools and sensors and then process that data to create business insights. These insights are then used to make informed business decisions that result in customer satisfaction, profitability, and a higher brand value. Hence, you should also pay heed to leverage company and market data for an informed business decision!
Final Takeaway!
In the past few years, many businesses have transformed the way they used to work. Today, more automation, data-driven business decisions, customer-centric policies, etc., are helping companies become successful. Hence, adopting these excellent tech trends for enterprises along with digital solutions and services is the best option if you also plan to join the same league. 
Managing complex operations, identifying the customer's needs, and saving time and cost, are some of the perks offered by digital enterprise solutions and services. The amazing benefits of implementing next-gen technologies that can promote complete business automation are beyond discussion. Hence, adopt digital solutions, driving profitability and innovation in your business.
Tags :