Is the massage gun a new "weapon" against painful tension – especially in the neck and shoulder area? They are now available in many colors and shapes from different manufacturers. The Hyperice Hypervolt massage pistol was once very popular, but you have to dig deeper into your wallet. Whether it is justified remains questionable. A future test by the Stiftung Warentest could provide information here. But what exactly can the portable electric pistol be used to do for the home user to relax?
The advantages over conventional massages?
Easy, inexpensive & intuitive to use
Mobile and handy and therefore quickly applicable
Less often a visit to the therapist is necessary
Rapid success through different intensity levels
Massage gun against neck and shoulder tension
Neck pain and neck tension the electrically operated massage shooter device is ideal for use in your own four walls in the private sector. It is very handy, equipped with a rechargeable battery, and can, therefore, be used mobile and without an annoying cable. Thus, for example, you can effectively treat neck and shoulder tension yourself in a very short time by quickly pulsating movements of the massage head.
To do this, switch on the massage gun and move it about 15 to 20 seconds over the neck area. Rapid percussive (rhythmic) movements of the massage head ensure deep relaxation of the muscles in the affected area.
You shouldn't expect too many miracles when using the mobile massage gun. It is obvious that the device should help to get rid of symptoms.
The performance of regular sports should not be neglected! A lot of exercises are the be-all and end-all for good posture and relaxed muscles, which cannot be replaced by this massager.
Not always z. B. incorrect sitting is to blame for bad posture. The wrong mattress or a too soft or firm mattress hardness can lead to tension or spinal defects such as. B. lead scoliosis, which in turn leads to muscle tension, etc.
In addition to the neck and shoulder area, the legs such as thighs, calves, and feet, the arms, or the back or chest muscles can also be treated with a hand massage gun. After a short time, muscle and joint pain will be reduced, unless major illnesses are the cause. Many users regain significantly more mobility after the treatment. Appropriate tests that confirm the effectiveness and effectiveness are currently very rare. Even the Stiftung Warentest has so far not published any relevant test report. If there is one, we will report here.
Easy operation of the massage gun via display
Read the massage gun display for speed and battery
Example display massage gun
If you are thinking about buying a massage pistol, you will definitely prefer a device that is quick and easy to use. Electrical devices are often difficult to operate, especially for people who are not tech-savvy or older people. More and more buttons, numerous setting options, or gestures pose problems for users.
It is different with common models such as the ABOX massage gun! As a rule, there is a clearly visible display on the back, which, for example, provides information about the speed level and the current battery level. Furthermore, the portable massage device can usually be switched on and off here. These displays often look very tidy and do not include many functions. This makes application and operation child's play.
Here you get an overview: Comparison of massage pistols
Hand massage gun in people doing office work
If you are a worker with a tendency to work longer on the PC or work at a desk, you could be particularly affected by any neck and shoulder problems, which could be alleviated by using the massage gun in the evening. Massage by the partner is usually a good idea since the shoulder and back area in particular are difficult to reach yourself. Another advantage is that the device is purchased once. During massage sessions e.g. B. with the physiotherapist, you will always have to pay costs. In addition, you do not need to visit a location after the strenuous office work. You drive home as usual and can immediately start using the massage gun there. With the aim of:
What is muscle tone?
In principle, muscle tone describes a (basic) state of tension of the muscle – even in the resting phase. If there are bad postures – especially in the case of desk work – B. sits very oddly, so that the neck muscles are stressed more, then the muscle tone increases gradually due to the overexertion. The consequences of increased muscle tone lead to painful tension and tension headaches.
What can you do alternatively against neck complaints?
If you have not yet benefited from an electrically operated hand massage gun, you could do it differently. If you are sitting for long periods, make sure that your posture is correct. Do you sit straight or often bent with your elbows on the desk and your upper body bent towards the monitor? In this case, the neck muscles are particularly stressed and tense or harden quickly. Move your neck every now and then to loosen and stretch it. Have a look to the side or far away. Do not take a rigid, rigid posture for a long time. Try to move your head in any direction as often as possible so that the neck muscles don't tense up.
Does the pain persist anyway? Then a massage gun could help. Size and weight make it possible to take the device with you to work. Drive over the neck area for several seconds and with higher intensity to release the tension. The great advantage of the massage pistol is that quick results can be achieved in a very short time.
Athletes, chiropractors & more use massage guns
One could almost imagine that the versatile and very effective electric massage pistols have long been recognized and used by relevant professions. Well-known chiropractors such as Dr. Joseph Cipriano (USA) mobile massagers to loosen the mus culture before the treatment. Then you go over to the actual craft and give z. B. the spine so that blockages are released and mobility is restored.
Amateur athletes up to seasoned greats like professional bodybuilder Tim Budesheim also use handy massage pistols to treat themselves quickly and effectively. According to his own information (video), Tim B. uses the Hypervolt massager and is enthusiastic. Although it does not replace a professional physiotherapist, the results are worth seeing. Especially since you don't always get an appointment with the therapist quickly and this also entails corresponding costs.
He treats himself when he notices that appropriate tension, e.g. B. are present in the chest, biceps or triceps. Trigger points can also be massaged selectively with a correspondingly smaller attachment. In his opinion, you can clearly see the difference if, for example, you treat one arm with a massage gun and not the other.
The pioneer – Hypervolt massage pistol
1st generation Hypervolt Gun
If there is a mobile vibration massager that started out, it is the approximately 1.25 kg lightweight Hypervolt massage gun, which originally comes from the USA. With the gray coloring, it is already visually appealing, but the inner values ​​are of course decisive. In the meantime, there is already the 2nd generation of the Hypervolt Gun, which is held in black.
The Hypervolt hand massager offers 3-speed levels, which allow the intensity to be adjusted according to individual preference and area of ​​application. In addition, the mobile massage miracle from the USA works at 3,200 beats per minute to generate pulsating massage movements. In addition, you can read in many reviews that the massage gun is very quiet.
Since it is a mobile and therefore portable electrical device for massages that can be used anywhere, this model is powered by a lithium-ion battery. With it, it is possible to achieve a runtime of 2 to 3 hours according to the manufacturer. Definitely enough to relieve tension every now and then. The scope of delivery also includes 5 different attachments, partly for large-scale treatments and partly for selective massages.
The Hypervolt massage gun can help you with symptoms such as sore muscles, tension, muscle stiffness, and muscle pain. The local blood circulation is promoted, the cell metabolism is stimulated so that quick successes can be achieved. Treat your legs, arms, chest, or back complaints yourself with the light massage gun from Hypervolt.
Cheap massage gun with very good reviews
If you are looking for a cheaper alternative to the Hypervolt hand massage gun, this model might spark your interest. Not everyone is willing to invest several hundred euros in an electric massager if the competing products are now much cheaper and do the same work.
This 24-volt massage pistol is kept in subtle black/gray and also provides tension-free muscles thanks to 4 different attachments and 3 intensity levels. Soz. B. the small flat massage attachment can be used for the whole body, while the attached attachment (large ball head) is used for large muscle groups. Massage your thighs, your tense shoulder and neck area, your back, and much more without any additional costs. Even after strength training, you can treat your sore muscles with the battery-operated massage gun.
According to the manufacturer, the battery life can be up to 5 hours, which is more than sufficient for a small mobile vibration massager. How long the device can be used also depends on the speed level and the contact pressure.
Numerous interested parties are also wondering whether this pistol can keep up with the Hypervolt for massaging. An Amazon reviewer reports that he found no differences. For this reason, this inexpensive massage gun in gray/black with 4 quickly changing attachments is the perfect alternative to save unnecessary costs. Many users are also amazed by the processing compared to the price paid. Try the massage gun yourself to relieve your tension. After a hard day's work, a beneficial massage is ideal to regain strength and maintain a better quality of life.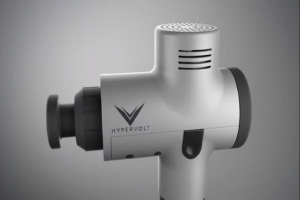 Conclusion: it is clear that a massage gun does not replace the regular movement that a vital person needs. It is necessary so that the muscles are well supplied with blood, strengthened, and supplied with nutrients to prevent diseases. However, smaller or larger tensions cannot always be prevented – especially if you have a desk workplace.
Bad postures often occur here, which eventually z. B. lead to neck and / or shoulder problems. In order not to make an appointment with the therapist, it is worth investing in a massage gun. It can definitely lead to quick relief due to the fast movements and when used correctly. And that z. B. alone from home and in no time.
Tags :