Who is Maralee Nichols? Maralee Nichols, an American fitness model, was born in 1990. In addition to being a celebrity partner and personal trainer in Houston, Texas, she is an American. People mostly recognize her, though, as Tristan Thompson's baby mama.
Maralee Nichols is a name that came into the limelight after she accused the Scarmento Kings player- Tristan Thompson. She filed a paternity lawsuit against him as he refused to accept his child with Nichols. Here's all that you need to know about Marlee Nichols and the lawsuit. 
Her Journey Into Fitness
Since she was young, physical fitness has been one of her main interests. While still in class, she started actively focusing on her diet and physique. Soon after, she made her diet and exercise regimen a full-time occupation. Additionally, she entered bodybuilding and bikini competitions. However, she has won a slew of prizes at contests. This woman is well-known in the sports world as Tristan Thompson's personal trainer.
Eventually, she began regularly exercising three times a week. She committed herself to her vocation as a fitness trainer by working out six times per week after finding that she actually enjoyed doing it. She also has extensive experience as a trainer. She provides a number of services, including weight loss meal kits and online fitness training, through her own website, maraleefitness.com.
Not only this, Maralee Nichols is a seasoned real estate agent who does in-depth analyses of the local housing market and places a premium on the client's desired outcomes, all while protecting client privacy, acting ethically, and establishing lasting relationships. Maralee has her broker's license in many states.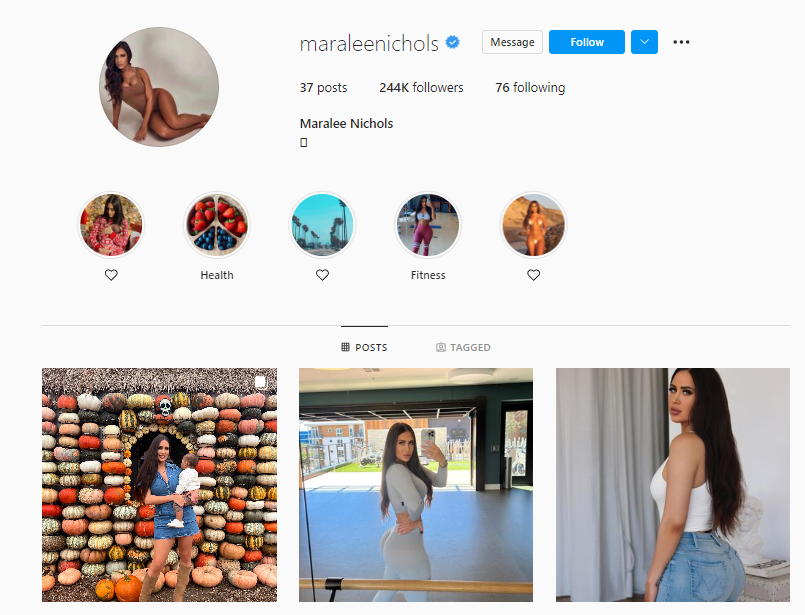 Maralee Nichols and Tristan Thompson's Love Story
After, getting in to the fitness industry Maralee worked as a personal trainer for a number of A-list actors and models. Finally, she had the chance to work with NBA player Tristan Thompson. After working together for around five to six months, they started developing romantic feelings for one another.
In the five months leading up to Tristan's birthday, the two met and Maralee Nichols began an affair. A number of occasions throughout the time that Tristan was with Khole Kardashian, Maralee claimed to have had sexual encounters with him. She allegedly got pregnant by Tristan. The only time Tristan admitted to sleeping with her was on his birthday weekend in March. On the way to the party, Tristan listened to music as Nichols drove him in her sports vehicle. He said that she had told him that she had a surprise waiting for him at the hotel for her birthday, and he understood that the gift was sexual in nature. He reasoned this based on his anticipation of the facility's design.
Thompson claims that this one incident marked their sole time of sexual intimacy, which Nichols initiated. She gave no sign that she was uncomfortable with their sexual activities and seemed to be awake and aware the whole time. All of this is being revealed by the ongoing law suite.
The Controversy
Initially, Nichols gained attention when she claimed that the NBA player was indeed the dad of her child. In reply to the July 2021 court petition, the NBA star admitted that he had a sexual encounter with Nichols in the past. However, once Thompson and Nichols met in March, Thompson wanted DNA testing to verify that he had conceived a child with Nichols.
During the ongoing court fight late last year, Us Weekly reported that Nichols had given birth to a son in December 2021. During the same month, Nichols finally spoke out about the case to "defend her reputation."
Maralee Nichols said in a long statement that the Canadian man had assured her that he was "not having a sexual connection with anybody else" when they first met. She emphasized that their relationship was "not casual sex," and that she and Tristan "communicated everyday" via phone calls and text messages. 
Nichols recalled how Thompson had invited her to spend the holidays, the new year, and his birthday with him in March. The former Cleveland Cavaliers player was in a relationship with Khloé Kardashian, with whom he had a 3-year-old daughter named True, at the time of his supposed encounters with Nichols.
Nichols said that she "took every precaution" (including staying off of social media) to hide her pregnancy and the problems she was having with Tristan.
Thompson, who already has a 5-year-old kid from his relationship with ex Jordan Craig, confirmed publicly that he is the father of Nichols' child. He confirmed the news in his Instagram post saying, ""Today, paternity test results reveal that I fathered a child with Maralee Nichols. I take full responsibility for my actions, now that paternity has been established I look forward to amicably raising our son." The player also made an apology to Kardashian as a result of the DNA tests.
The Law Suit
The entire issue started when Nichols became pregnant and revealed that Tristan was the father of her child. Tristan refused to believe and Nichols went ahead and filed a case demanding child support in California. Thompson preferred a court in Houston to hear the lawsuit, while Nichols chose to do so in California. Nichols' had her first win when the case was heard in California since a court in Texas dismissed Thompson's complaint.
Tristan made a huge hue and cry about the entire thing. He went on record to say that he was never in a relationship with Nichols and that he never slept with Nicolas in California. He tried to file a suite against her in Texas, which was dismissed. Thompson stated that Maralee was trying to "gain fame" by roping his name in.
The fans also accused Maralee Nichols for being a gold digger. However, she was very public in giving back to her haters that she was not lying and was going through a very hard period in her life . The case was finally resolved when after the DNA test it was revealed that the baby was indeed Tristan's.
The entire episode is now over. Tristan took the full responsibility of the child. The baby is named Angelou Kash Thompson. Tristan, who already has two other kids, is not fathering a third child with Nichols. Maralee said that now it is all over she is trying to move on with her life. Tompson and Nichols are raising the child together.
Tags :