By the time winter's finally over, most of us are gasping for the sunny warmth of summer. Hazy memories of summer raves past make us sigh wistfully. But there's no better cure for the winter blahs than thinking about what you'll wear to summer raves. You know I'm right! Close your eyes and feel the sun caressing your face as the beats and sounds rush over you. Let's teleport our spirits to a summer rave as I share with you the top six summer rave outfits and ideas.
Rave is Older Than You Think
Music is the emotional center of the rave. It drives the mood and atmosphere and moves the people. Music at raves inspires freedom of expression in all its colors, celebrating and interacting with it. What results are the restoration of a primal, pre-human urge –- moving collectively to a hypnotic beat.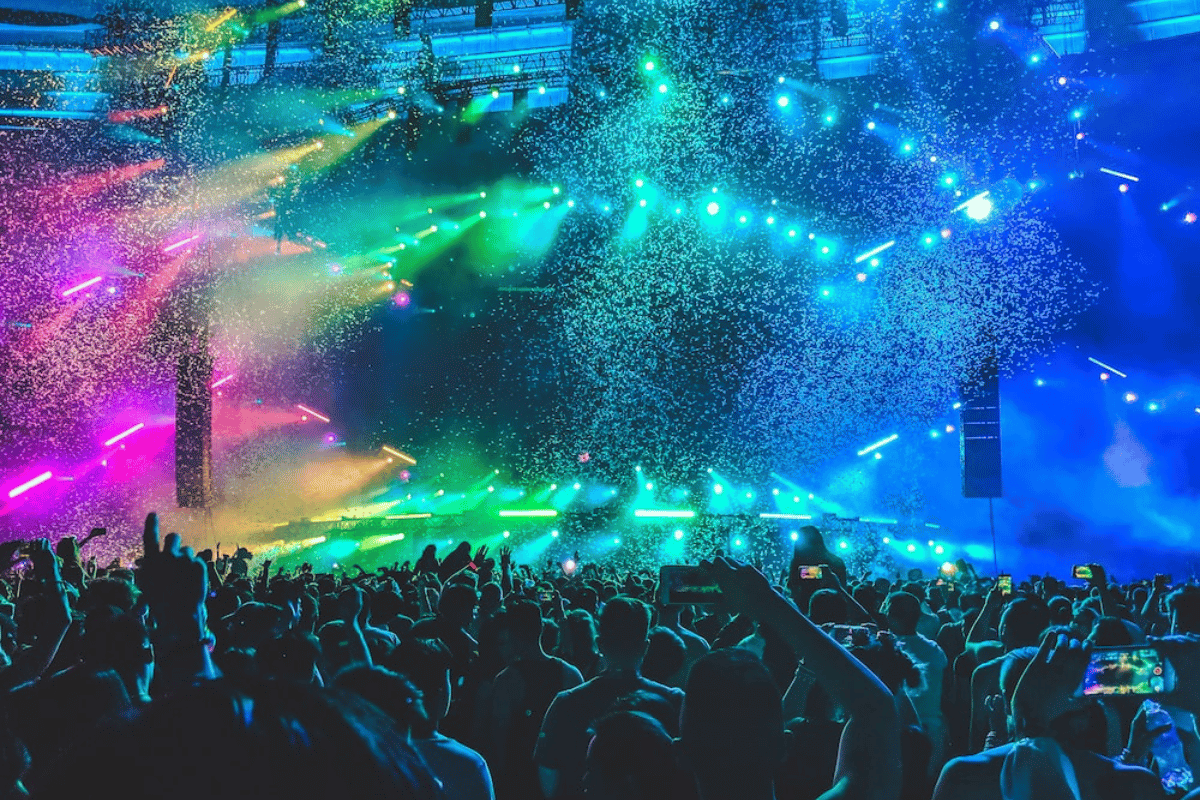 Rave is the modern version of that primal urge, accompanied by the same dedication to putting on a show as our oldest ancestors. Less ritualized, rave fashion bows it's head to rave culture's ancient roots by recognizing the importance of gathering to celebrate. This year's summer rave looks to integrate the influences of the moment, creating hot takes everyone can rock. That's right! Raves are for everyone and so are these attitude-sporting summer rave showstoppers!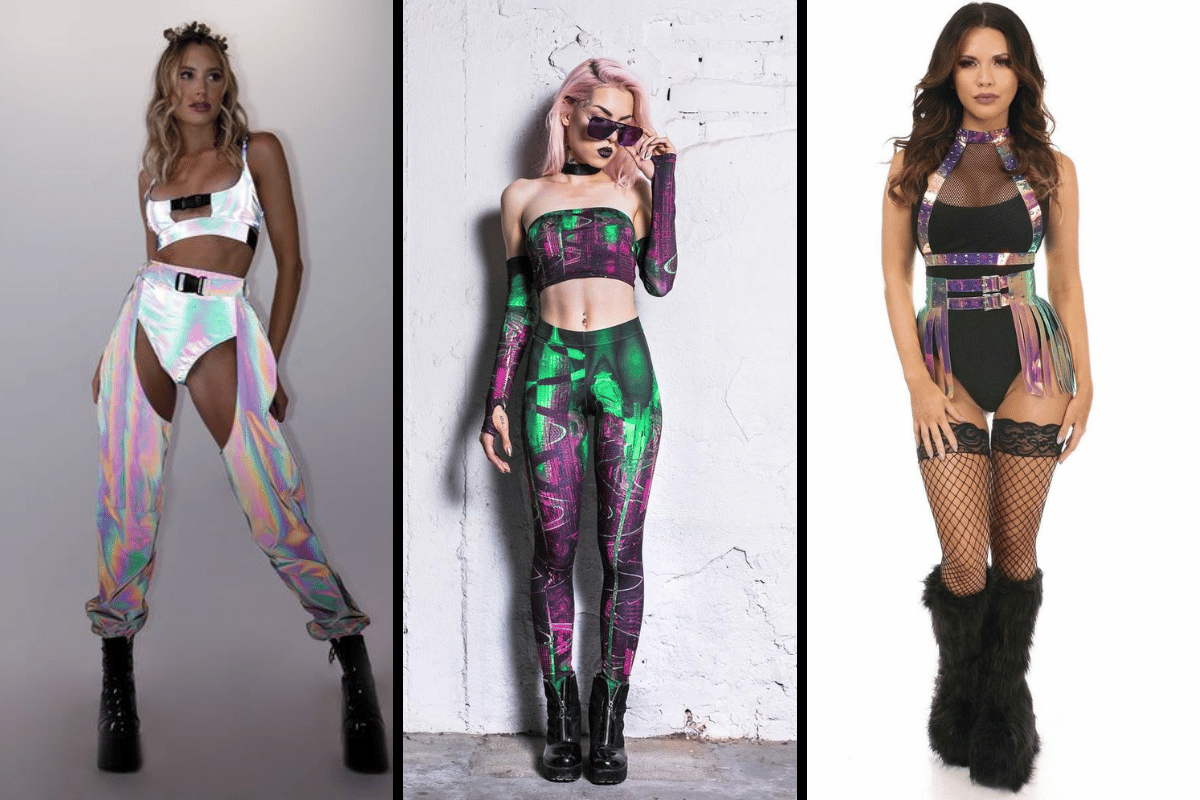 The single-minded raver comes to move. Whatever this focused groover wears must be dance-friendly. The call of that hypnotic drum can't be resisted when you're dressed in something smooth, cool, and sexy that lets you move your body effortlessly. Get your rave outfits moves on in casual, simple rave outfits that honor the body's love of movement.
These looks answer the growing luxury athleisure wear trend while complimenting the natural elegance of a dancer with chill, carefree chic. Expressly responding to the body's needs, dedicated beat seekers are set free in this low-key, high-style rave look.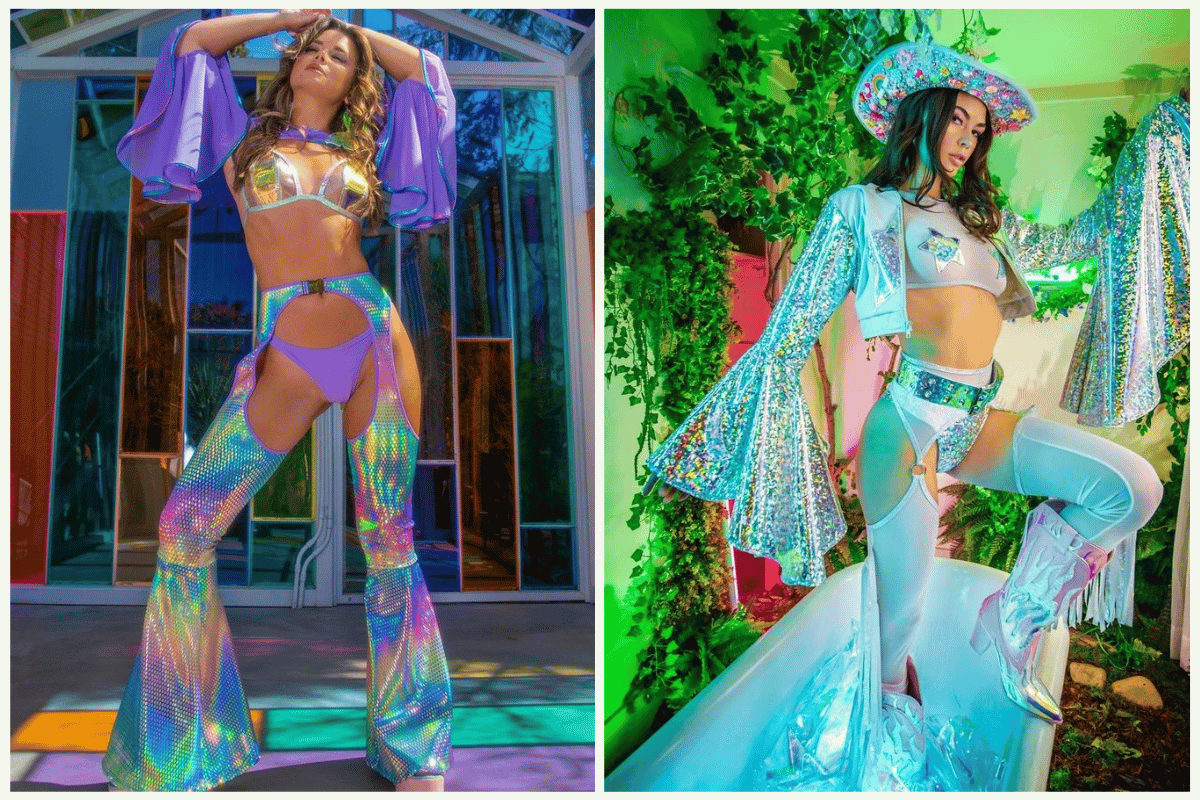 While high fashion is having a Courtney Love Grunge moment, ravers are more about dressing to impart a feeling or vibe. You, raver, wear a piece of yourself on your sleeve, especially when your hands are in the air. The 80s rocker was no different.
Leg warmers with shorts and a shiny spandex bodysuit or knee highs with a tartan skirt and combat boots bring the 80s to the rave. Add fluorescent, day-glo colors and an Elton John crop top for a thematic lynchpin. Throw on a leather biker jacket to add a 2023 high-fashion reference. You'll need it later when the sun goes down. Wrapped around your hips it's a statement, rave rebel.
Fringe isn't just huge for 2023 high fashion, it's huge for raves. You'll be seeing fringe at fests everywhere this summer in metallic yarns and tinsels. Jackets, skirts, and shorts are embellished with layers of lively fringe, catching the light as it jumps when you do.
Harkening back to 1960s hippies and their rebellious predecessors, the Roaring 20s flappers, it's fringe with everything this year. Bouncing details like fringe is tailor-made for the raver, so pile it on for summer raves to sparkle and shine like a shuffling diamond.
Metallic isn't just for fringe this summer. It's for everything you wear. Metallics shimmer as well in the sun as they do in dancing, twilight lasers. Picture yourself as a shiny, alien deity in a metallic mini and bralette, or choose metallic booty shorts, worn with a crochet bra or shrug. You can even get your metal on with elegantly spacy chain mail.
Remember that the metallic style you wear should be geared to the setting of the rave. Is it at night? Metallics are at their most potent after sundown when those lasers are bound to be dancing in abundance. While metallics work just as effectively in sunlight, they can also warm you up pretty quickly depending on the fabric. Do get your daylight heavy metal on but maybe skip items like metallic leggings or pants to keep your cool
No question rave makeup was made for creativity. There are no boundaries and no rules. Brilliant eye and lip color, glitter, adhesive-backed stones, and feathers are all welcome to the rave face party.
But to keep it on your face through your ecstatic gyrations, a makeup primer and a reliable setting spray are your best friends. Taking these extra steps as you're preparing your face to rave ensures that your makeup stays looking gorgeous for much longer.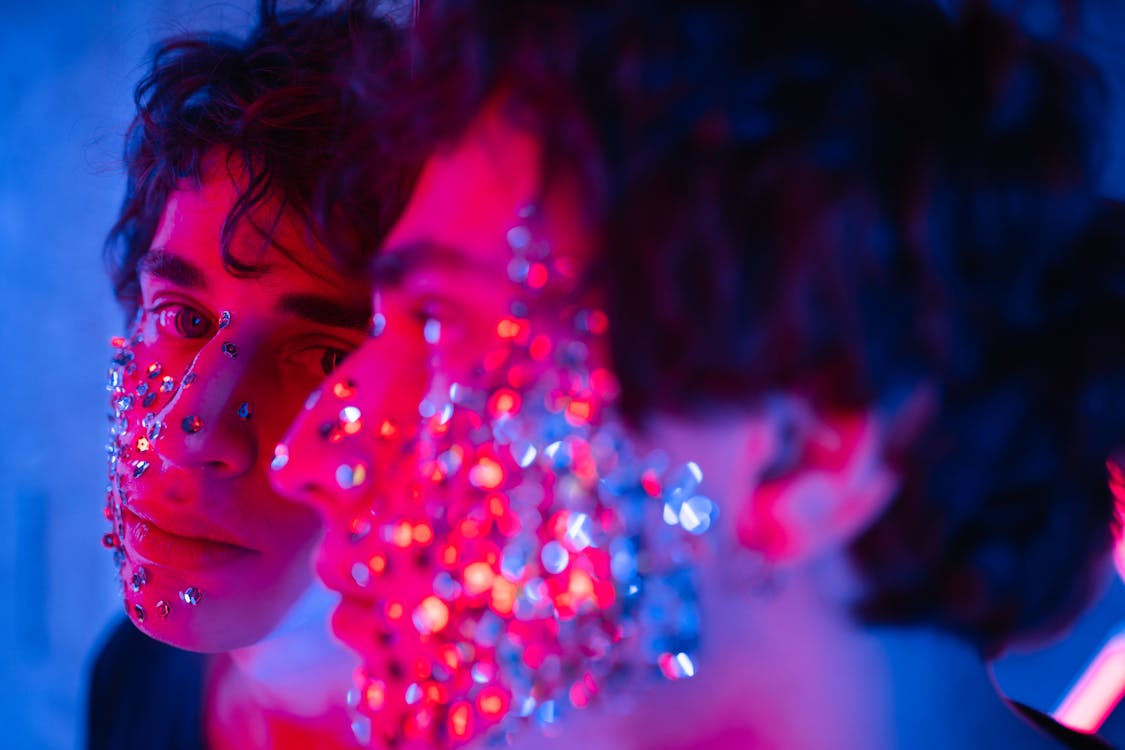 Rave's hair is everything from a tousled mop to a carefully curated extravaganza of extensions, yarn, rhinestones, and imagination. Let your creativity take flight with summer rave hair that gets noticed but doesn't put a damper on your comfort.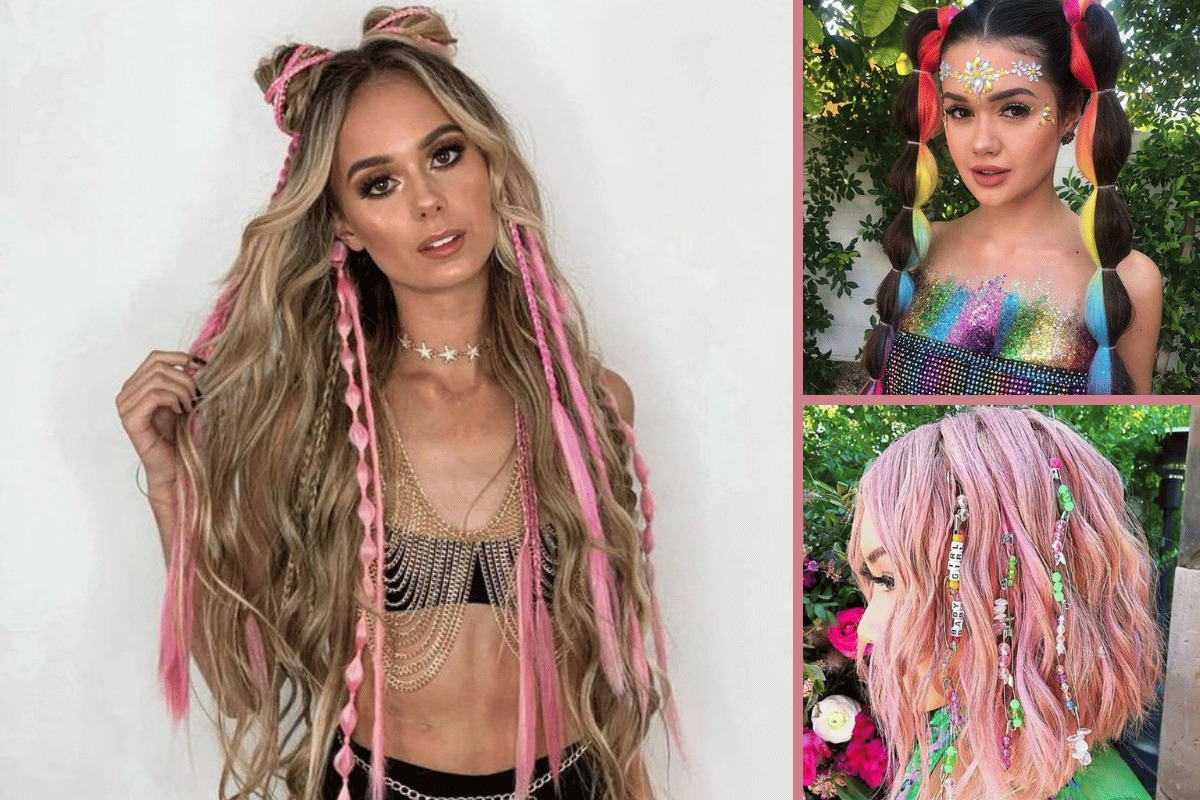 Dutch braids are a huge favorite with ravers. Braids keep hair off your face and your mane's comfortably contained — ripe for decoration. Add dayglo yarn or colorful ribbons to amp your braids up or clip in some boldly colored extensions. These can be worn high on the head in pigtails, cascading down either side of your face. You might even wrap your hair up in colorful scrunchies, creating "ears." You'll be as free as a bird and on the cutting edge of summer rave hair!
Peace, Love, Unity, Respect, and Self-Care
Summer raves are bound to get hot, so don't forget that your body needs to breathe while you're out there jumping around. You'll also need to stay hydrated, so keep your metal water bottle full and in heavy rotation. Slather on the sunscreen for daytime raves. Also, check that your makeup contains a minimum of 30 SPF if you're raving during the day. And if you're an endurance groover, eat for stamina, day or night!
These top summer rave outfits and ideas are yours to play with and adapt. Get creative. Get crazy. Then, rave through summer like a joyful, beat-seeking force of nature!
Tags :