With the pandemic hitting globally, the entrepreneurs are shifting their interest towards the on demand service app market. And why not, it booming, profitable, quickly expanding, and scaling up is easy at a fraction of cost.
Are you looking to invest in an on-demand economy? But you have no idea about this segment. Also, earning more customers to increase more downloads is a totally new thing for you.
The blog throws insights on different types of on-demand business models, and the best ways to earn more customers for your on-demand service business.
Types Of  On-demand Delivery Apps
Business to Business
The on-demand app serves as a platform connecting businesses to other on-demand service providers for their business requirements. Ideally, this kind of app model is majorly served in the international markets. The B2B on-demand app is designed to serve one particular industry as well as multiple ones.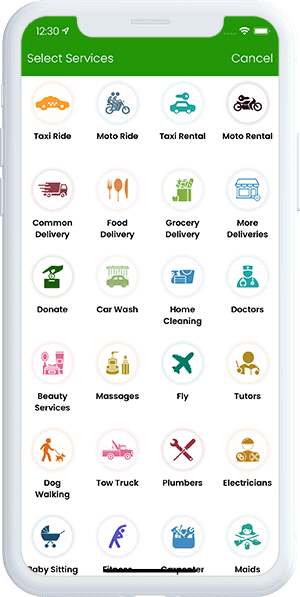 Business to Consumers
This is the most preferred choice of startup entrepreneurs and those who have already established business running. The on-demand app connects the service provider to the consumer to fulfill customer demand. E.g. we take "Pizza Hut", this B2C on-demand app lets you book a pizza of your choice and get it delivered right at your doorstep. The app lets you track the pizza delivery person on a real-time basis.
Peer to Peer
Also known as the aggregator business model, the on-demand app acts like a marketplace connecting service providers to the consumers. The app acts as a bridge, minimizing the demand gap so that consumers can enjoy doing what from the comforts of their home. Some of the best examples are UberEats, Instacar, Ola, PostMates, Zomato, Swiggy, etc.
Why Most Of On-Demand Service Are Not Able To Make Big?
It's that by the time the app launches, it loses the purpose as to why it was been developed in the first place. The approach shifts to the problems that provide the solution to the customers.
Your users have downloaded your app for a specific reason, to accomplish their tasks. The problem is the app doesn't hit the nerve because:
The features are not up to the mark
The app is not developed for the target audience
The competitors are giving more and at an economical price
Compatibility issues
The app takes too long to open the screen
The design is not user-friendly
Complex navigation
No quality execution
Work on these issues to get your app up and running. It is important to know what your customers are expecting from your app. Is it capable of catering to the on-demand services? Are your on demand service providers committed enough to provide on-demand deliveries and so on?
Here you will find effective pointers on how to earn more customers:
Know your target audience
The majority of the entrepreneurs fail in getting the right audience. The app will be customized based on their age, tastes/preferences, gender, geographical locations, etc. Know which age-group it will cater to and based on that, customize the features. The app should do the talking of helping and benefiting your users.
Personalizing your app approach
The user is coming to you because they found something new, more, and cheap that another app wasn't offering. So, what more you should give? Provide them a personalized experience where they are seeing only benefits from the app. Customize your marketing strategies to win your user's confidence. E.g. personalized approach can be offering discounts, giving them premium membership free (if they are recurring members), discounts when they refer your app to someone, etc.
Effective communication
Customer engagement is important. It helps boost visibility as more and more users found your app welcomed. You can engage your customer care with your users to know how was their shopping experience, offering timely push notifications will let them notify about the new updates, new launch of services, on-going discounts, etc. The more your app is communicating with your user the better the performance.
Robust mobile application
The age-old marketing techniques won't work here. You need to implement effective marketing strategies such as building an on-demand app. Let your app do the marketing. You can offer innumerable offers/deals and discounts to your users, pitch them loyalty programs, give them discounts on referrals, offer them membership at lower prices, get a wide range of service providers to cater to the masses, etc. Once the word is out, you will witness a boost in the app downloads.
Working on the feedbacks
Your users will feel more welcomed and care for when you hear their concerns, queries, and sort them out. They will see that you are stretching an extra mile to show that you care. Making your users happy is your priority and when this is sensed you will see the boost in your ratings,  which automatically increases your brand visibility.
Share your user stories
It is one of the most genuine ways to increase your customer for your on-demand services. Whenever your users are happy and share the picture where they have benefitted from using your app, or have earned using the app, but their stories and share them on the social media platform. This works amazingly in letting people know that your app is different from the rest and you are proud to show that.
Consistently innovate and update
This is extremely important. No user will want to use an old, slow on-demand app. To make it innovative, keep adding new features, update it from time to time with new technology innovations. Ensure that your app is updated, ensuring the list of the service providers, their details, personal information, pricing, etc.
Look at some of the popular on-demand app like Gojek. It was a very basic model, with simple features when it was launched. Now it is more intuitive, with AI level features. It is not about surviving the race but, beating it too.
Conclusion
Now that you have known the insights and the best ways to earn more customers for your on-demand apps, all you need to do is find a professional mobile app development company. Take the live demo to know the functions and how it works and make the purchase. It is advisable to buy a clone app than developing an app from start. This prevents you from spending overboard and makes it quick to launch your on-demand app as quickly as in a week. Figure out which type of on-demand clone app you want to develop and discuss the same with the mobile app developers team to turn your dream concept into reality.
Tags :