In this era of smartphones, websites are becoming much more like apps and apps are becoming more robust and powerful, it is possible that both the digital channels to coexist? Or one channel will overtake the other. 
The answer to this simply depends on consumer behavior. People mainly browse and read websites, however, they use apps extensively.
Websites are browsed passively while the apps are used actively. Websites provide useful information, however, apps help to complete a certain task. The website might have a big audience, however, apps have a more engaging audience.
But what if you don't have a mobile app, then we recommend you to first convert website to app and then include core features of the website into that app.
You may have a question, how to turn a website into an app? For this, you can take help from a professional web and mobile app development company. They are familiar with the latest technology and tools, hence they will help you to turn website into app with ease.
After you have converted your website into the app, it is essential to Integrate the website with your mobile application to increase traffic. But, it is not an easy task. There is not any quick formula for great web-app integration in a short amount of time. 
Before you start, some factors should be considered during the web-app integration process. Two variables that directly affect the whole process are security and scalability.
Security
Web-app integration has attached to it a lot of security issues. To make sure that the information remains secure, a successful web-app integration process should consist of simple yet effective implementation, coding and build a good method for authentication.
Scalability
The application should have a well-defined architecture which makes it simple to manage information and enables a developer to update the information whenever they want to.
Websites are the first channel for any business. They enable you to put your brand in front of your readers and customers, however, mobile applications are essential for user engagement.
You can integrate both the digital marketing channels to attract more users to your website and then convert your visitors into customers. 
Now, if you have made your mind to integrate the website with your mobile application, then follow the step-by-step process given below. 
How to Integrate the website with your mobile application?
Direct mobile website traffic to your mobile app
Despite the fact that your website if highly responsible, you should redirect all the users who visit your website through mobile or tablet to your app. You must have a question, Why?
Because mobile apps provide a highly interactive UI/UX experience as compared to mobile websites. Mobile apps are more efficient, robust, and designed better in order to attract and engage more users. 
Slow navigation and high page loading time force visitors to close your website, however, mobile apps keep them occupied due to better features and highly-responsive interface.
Integrate all the core features of your website into your app
People who are downloading your app expect that it should contain all the main features of the company's website, along with a mobile-friendly user-interface.
Your customers and readers may not get connected with the app if it doesn't have the website's most used and loved features. 
Be creative and add some app-only functionality
To be specific, the above tip doesn't indicate that you should replicate your whole website.
Your app should have all the core features of the website, however, it should allow a user to utilize the mobile's unique functionalities.
To achieve this, increase the user-friendliness and utility of the app by providing some exciting and creative features. 
For instance, Amazon expanded its mobile search functionality by utilizing smartphone camera, hence its app users can discover new items by scanning them. 
Create a seamless and consistent experience for mobile users
One of the essential things you should provide when integrating your website with the mobile application is a continuation of experience.  Firms should provide their users with a consistent brand experience when they switch from their laptops to smartphones. 
In short, when a user opens the app, they should be able to perform an action from where they have left your website.
To achieve this, ensure that your app fetches information and behavior from your website to make a seamless transition. The best way to supply info into the app is through profiles.
For instance, the e-Commerce store Amazon allows you to add a product into the shopping cart from its website and continue the checkout process from the mobile app.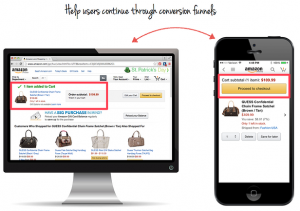 Conclusion
If you are struggling while integrating features of website into a mobile app, then approach a reputed web and mobile app development company.
They will first look after different features of your website and then integrate all the basic features of website into the app.
Don't consider your app as a mobile version of the website. Allow both the marketing channels to work at their best and they should depend on each other to reduce all the gaps.
Websites are well-known for providing information, while the apps are great for increasing conversion rates and engaging more users.
Provide the best experience to all your customers on all the mediums (whether its website for laptops and native apps for smartphones and tablets).
Redirect all your website users to your app when they have understood the brand's value and are ready to become your lifelong customers.
Tags :