Everyone knows Adidas: they've cornered the market in sportswear and equipment, and they've garnered a cult following along the way. Enter Starpro Combat, a combat equipment heavyweight with artisanal processes which promises all the same quality for a lower price tag. How do these two wildly different brands compare? On one side of the ring, we've got Adidas' Hybrid 300 boxing gloves, and on the other, we've got Starpro Combat's S90 Wrist Shielded Boxing Gloves; we're going to let them battle it out.  
Adidas 
Hybrid 300
 Boxing Gloves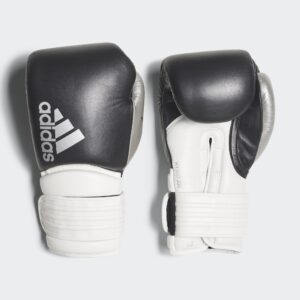 Price: £130 
Material: Leather with PU palm 
Sizes: 8 oz, 10 oz, 12 oz  
Technologies and features: Hook and loop closure, taffeta lining, injection-molded foam padding 
Our Verdict
At first glance, these look great: they have the signature Adidas styling and a hefty, padded look. These come in two colorways: a punchy metallic gold and black for those who really want to stand out, and white and black for more classic tastes. The outer shell is buff leather, which is preferable at this price point and great for its durability and resilience. The palm, however, is PU, and wear and tear in this area might show earlier than the rest.  
These Adidas boxing gloves use layered, injection-molded foam, which outperforms regular foam on several fronts, creating a great cushion for you to land those punches. In terms of protection, these do well. The wrist's elastic strap and hook and loop closure are double-layered, keeping the wrist aligned and secure and preventing injury. 
We like the feel of the smooth taffeta lining for comfortable wear; it's a popular feature for boxing glove brands to add. Overall, however, we feel there is space at a price point like this to add in more and make your product stand out. It seems these Adidas gloves rely heavily on branding, and less so on the actual features. With a limited weight range in the gloves (between 8oz and 12oz) it seems less inclusive for those fighters who like more padding.  
Overall, these are a solid choice but priced a bit too high for a very simple design. 3.5/5 from us. 
StarPro
S90 Wrist Shielded Boxing Gloves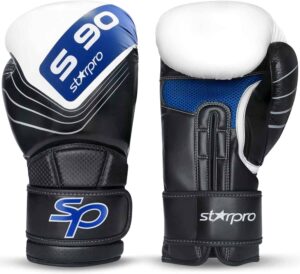 Price: £26.99 
Material: Genuine cowhide leather 
Sizes: 8 oz, 10 oz, 12 oz, 14 oz, 16 oz   
Technologies and features: 2P / 1C-16 foam padding, long wrist closure, sweat-wicking mesh lining 
Our Verdict
With a black body and white top, these Strapro boxing gloves present a similar monochromatic feel to Adidas. These sport vivid blue branding that stands out, giving them a retro vibe. The limiting factor here is that these only come in one colorway, while Adidas gives the option of two. The gloves themselves are weighty and glossy with a finish that can only come from premium cowhide.  
These gloves promise and deliver, a powerful padded front that works to disperse impact and lets you keep the focus on your moves. For these, too, the padding is made of injection-molded foam, a leg up from generic foam, and heavy on the protection.  
True to their name, these feature an extra-long wrist closure. At 8cm long, the wrist cuff on these reminds us of the length old school lace-up wrist closures used to provide the wearer with. This however is Velcro, so it gives you all the cushion and support without any of the lace-up headaches: it's quick on and off for solo training. These are definitely keeping your wrists safe from injury. 
We prefer the sweat-wicking mesh lining on these to taffeta, as it keeps the hands nice and dry during training. No slipping around with these. The mesh used also made cleanup easy as hanging the gloves up did a good job to dry them out.  
Offering 5 weights spanning 8oz to 16oz, these gloves have kept diverse fighters and their needs in mind. Also, the variety of padding makes them pretty multipurpose, covering everyone from hobbyists to professionals. Overall, the kind of quality and thought you're getting in this design is unbelievable at this kind of price point. We would be willing to pay much more for these because they tick all our boxes: supportive, durable, and high-performance. 5/5! 
Looks like Starpro Combat's S90 Wrist Shielded Boxing Gloves are the clear winner in this fight. With the kind of quality this brand has been producing, we can't wait to check out more of their equipment. 
Tags :