Your kid is growing up and you want to give their room a complete makeover? Look no further because we're here to help you out! Here are five useful tips on how to easily decorate your little one's room, so check them out and get down to business right away!
First of all, opt for the best color palette
Yes, we know that many parents still stick to blue for boys and pink for girls, but you know what? This is no longer the only way to go. Possibilities are truly infinite, so get creative and think out of the box. After all, this is one of the most important decisions that'll affect the final result, right? Needless to say, gorgeous pastels have always been among the most popular shades for kids' rooms. This is because they are really soft and gentle, which makes them perfect for the early stages of your child's life. Even though these are timeless classics, some parents prefer other color combos that are more adult-feeling. It's because they don't want to repaint the room every couple of years, which is totally understandable. Just pick a color palette that works for your preferences and you won't make a mistake! 
Invest in major pieces such as bed and rug
The next thing you need to do is buy major pieces such as a bed and a rug. These can be a big investment, which is why you should be careful about the styles you'll pick. Quality pieces that are durable yet stylish at the same time should be your way to go. When it comes to the bed for your little one, you must consider their weight and age. Of course, the mattress should be your top priority as your kid's spine is still developing, so choose it wisely. As for the rug, you should go for one made from natural fiber. These are extra durable and strong, which makes them perfect for kids' rooms. If there aren't any statement details in the room, opt for a carpet with an intricate design. It'll do the trick!
Use decorative pillows and covers for extra fun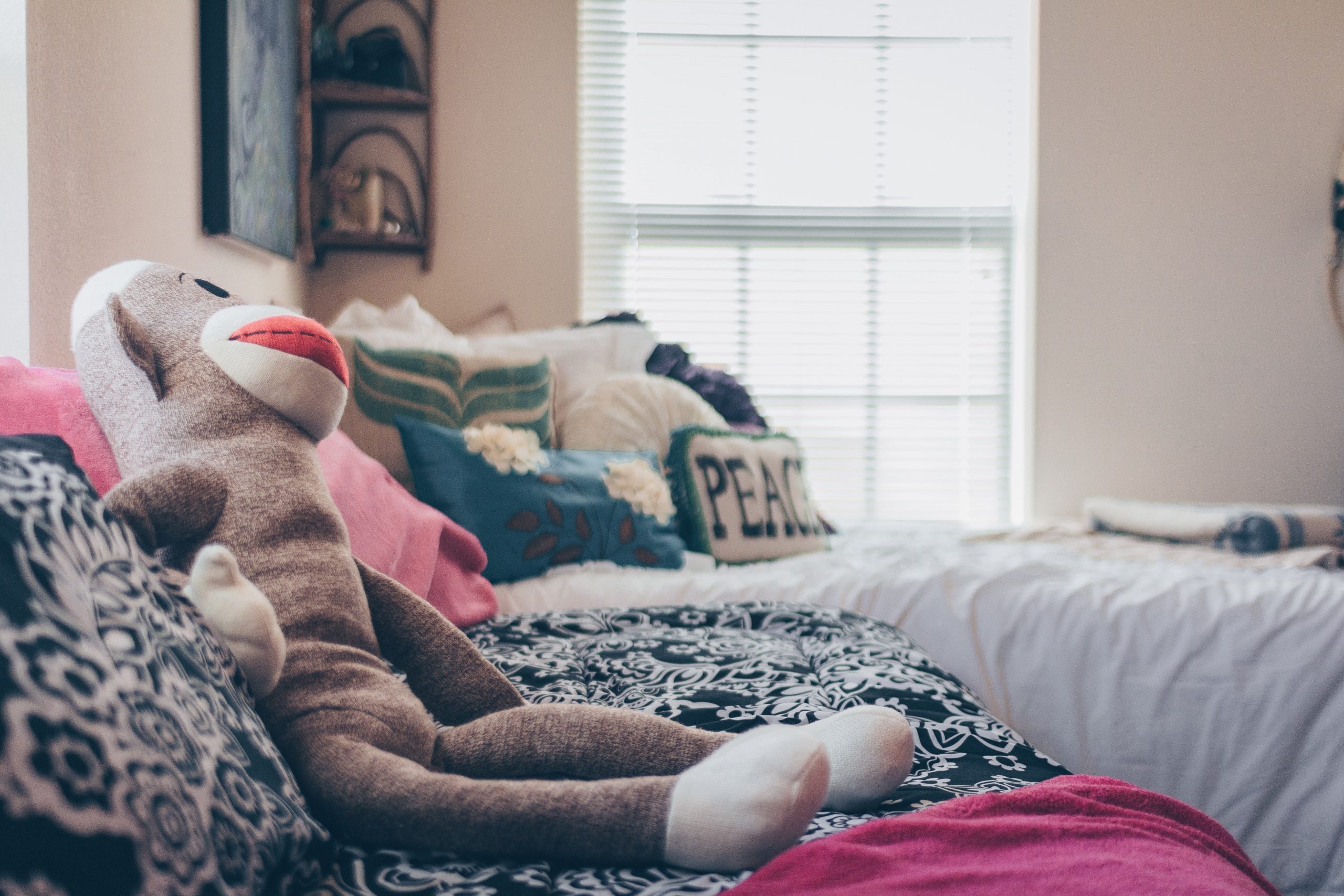 Is there a kid who doesn't love cozy blankets and fluffy pillows? We don't think so, which is why you should decorate your kids' room with a bunch of these little guys! These come in many different colors, shapes, sizes, and designs, so you'll undoubtedly find a style that perfectly fits the dominant color scheme. However, if you can't find what you want, there are many brands that make personalized decorative pillows. Or you can sew them on your own, why not? Apart from the pillows, make sure to buy quality kids' doona covers as well. Of course, these come in a variety of colors and designs, too. The best thing about them is the fact that they are very decorative yet so practical at the same time. One thing is certain – your kid will love them!
Choose glow-in-the-dark paint for some exciting details
If you're one of those cool parents who'll do anything to make their children happy, you should give glow-in-the-dark paint a try! This is a fun way to paint exciting details on the walls or the ceiling, but with a little twist. So, if you think that your kids will go crazy about it, all you need to do is to use glow-in-the-dark paint to create intricate designs. For example, the moon and the stars are a fantastic choice for the ceiling, whereas the cityscape is great for decorating the walls. The best thing about this special type of paint is that it's invisible during the day. It'll glow brightly at night, and trust us when we say that your kids will adore it. It will make them excited to turn off the lights at night, which is a benefit you shouldn't overlook!
Chalkboard paint is a great idea, too
On the other hand, if your kids are artistic little fellas who tend to destroy your furniture with their art, you should definitely go for a chalkboard wall. This is a dream come true for all parents whose kids love to draw on the walls, so be sure to bear it in mind. The first step is sanding the wall you want to transform. It's crucial because the final product needs to be as smooth as possible. Then apply at least two coats of chalkboard paint, give it three days to completely dry, and voila – your chalkboard is all done and good to go. Just remember that it doesn't have to be black – it can be any color you want, which means that you can make it fit perfectly into the overall color palette!
As you can see, decorating your kids' room doesn't have to be as challenging as you probably thought. All you need to do is to stick to our five useful tips and you'll undoubtedly make it happen. Just follow our guidelines and you'll accomplish your goal!
Tags :