It's time to stock-up your winter wardrobe. The season could be fun if you dress aptly. So all the boys and girls, ladies and men, get ready for the winter and stash up your wardrobe with below-listed essentials.
Read more to know Winter Wardrobe Essentials for Men and Women
Must-Have Winter Essentials for Men
Leather Jacket
A leather jacket is a must-have for your winter wardrobe. A classic black leather jacket goes well with all types of outfits. It is versatile and looks cool when paired with casuals and boots. On colder days, you can team it up with your Polo T-Shirts for an easy-breezy look. For a night out with friends, you can layer it up with muffler or wear a sweatshirt beneath.
Classic Denim
Whether it's summers or winters, you have to have classic denim in blue or black color. And, nothing like that if you have both colored jeans. A plain black and blue jeans are a staple. You can team them your formal shirts and casual t-shirts and wear them on any occasion. For a stylish avatar, you can go through a bright color jacket, and you will be ready to rock the day. The online shopping store, like Reliance Trends, has a vast collection of denim. Browse through their wide range and order the best fit for yourself. Do check out the latest Reliance Trends offers and deals to get a massive discount on your favorite ensemble.
Woolen Blazer
A woolen blazer is one of the winter wardrobe essentials for men. The blazer is quite versatile, and it offers significant warmth, which is why it is worth buying if you do not have one. Look for the neutral colors that match well with most of your outfits. A woolen blazer is ideal for semi-formal occasions. However, you can wear them on all types of events. For a formal look, pair it along with your trousers and shirt. For a casual look, you can pair it with your favorite denim and t-shirts.
Boots
Boots are the ultimate saviors and staples. On the days when you do not decide what to wear with your denim, simply wear boots, and leave for the day. You cannot go wrong with boots. Nevertheless, make sure you opt for the correct length. These are available in different styles, such as ankle boots and over the knee boots. Choose the style that looks best on you! Tan and black color boots classy and march almost every outfit. Invest in a pair of boots that are comfortable since you would have to manage the entire day in the same pair.
Zip-Up Sweater
You ought to have a classic sweater to save you on the chilly days. Nothing could be as classy and smart than Zip-up sweater; these look perfect with an extensive range of apparel. It is an ideal woolen ensemble to layer for extra warmth. Team it up with a light-colored and dark-colored jacket over and step out with black or navy color denim for a casual look. Zip-up sweaters look classy with button-down shirts as well. You can switch on the garments according to the look you want to create.
Must-Have Winter Essentials for Women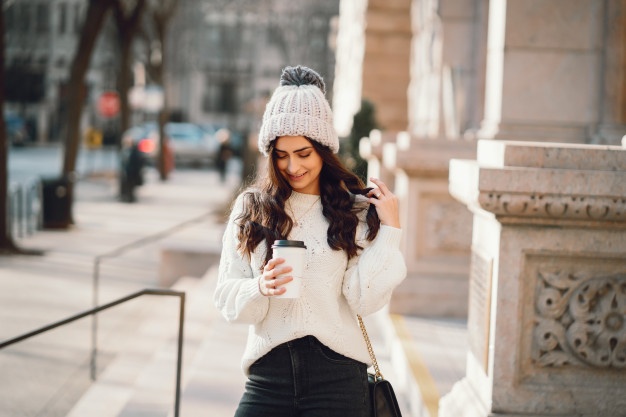 Skinny Jeans
Woman! You can never go wrong with skinny jeans. Pair it with casual dresses or am up to your formal look with classic color of skinny jeans. What's best about such types of jeans is that you can easily layer other garments for added warmth, and these look cool with boots. Style it with your favorite denim or leather jacket, you will always look classy and trendy.
Cashmere Sweaters
Cashmere sweaters are another piece of a woolen ensemble that all girls must have at least a single pair in a bright color. You can team it with your black on the black outfit to add some color. When the temperature drops down, layer it with a woolen scarf or muffler. From collared shirt to midi skirts, cashmere sweater can be styled with a wide range of dresses.
Knitted Jumper Dress
The easiest way to show your legs and remain cozy is by wearing a knitted jumper dress. For more warmth, you wear tights beneath or can even pair it with skinny jeans on the colder days. Finish your look with beautiful color boots. These are available in a wide range-From baggy knitted dress to body-hugging you can wear the one you like and find yourself comfortable.
Blanket Wrap Scarf
The effortless edition to any outfit is a blanket wrap scarf. It is warm enough to protect you on the extra colder days and stylish enough to gain many compliments. You can either layer it around your neck or ace a trendy scarf look. You can even style it like a shrug.
Turtle Neck Top
Believe it or not, Turtle neck top looks super stylish, and they are perfect for winters. They cover your neck and provide an extra layer of warmth. What else do you need? A turtle neck top too can be styled in various ways. You can either wear them with jeans or extra warmth wear it beneath a long coat.
Conclusion
The winter season is here to rule at least for some months. It's time to update your winter wardrobe and make yourself ready for the winter season.
Tags :