Hey you beautiful ladies! Got some women's tunic tops in your wardrobe and you do not know how to make those fashionable wear? Well, this article is here to help you out today. A tunic top is a hip-length dress or shirt which you can pair with different styles of bottoms. You can wear it both as formal as well as casual wear and goes very well with denim, leggings, boots and so on.
Styling Tunic Tops for casual and Formal look

One can simply style their tunic tops with leggings, slim-fit jeans, stockings and boots, and so on. Avoid wearing it with any type of flared trousers. You can also add an elegant belt with a tunic and discover more trendy ways to rock tunic dresses.
Tunics with Denim jackets
Amp up your casual summer day look with a denim jacket. A fitted denim jacket paired with plus-size tunic tops works wonderfully. Wear some chunky accessories, heels, and you are all good to go. Instead of plain denim jackets, you can also sport blingy jackets or jackets with applique work. Pairing a black leather jacket or long blazer with a tunic dress can be a good option for that winter look. It is an appropriate choice for workwear. A long shrug or cardigans for the summer meets are also a great choice.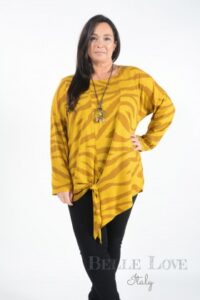 Wear tunic tops with leggings and boots
If you are unsure as to what to wear at the bottom, go for leggings without any second thought. It is one of the most comfortable and breathable outfits that any woman could own. Pair a printed tunic with a pair of solid-colored leggings, or if you want it funky, wear it the other way round, a printed pair of leggings with a monochrome tunic top. Wear a pair of boots with this and you are all set to rock the world.
Tunics paired with jeans
This is one of our favorite styles for both work and casual wear. Celebs often opt for tunics and jeans in movies and real life. It's a great tip to get ready effortlessly in a jiffy.
Pair oversized tunic tops with a pair of shorts for a casual look
Shorts come in various fabrics, but a cotton, linen, or denim one would be the most comfortable. Be it a long or short tunic top, pairing with shorts gives a cool look.
You can simply tuck your top in shorts loosely (like you would do for your shirt) with a cross bag and maybe the quintessential pair of white sneakers to complete the look. This is the perfect casual wear for college-goers.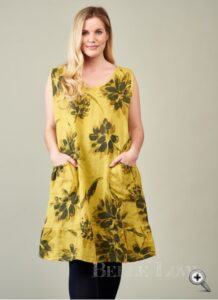 How to accessorize the tunic tops?
Women's tunic tops can be styled and accessorized with different elements. A long pendant, bold earrings, a nice watch, and a classy purse go pretty well with your tunic looks.
A smart belt
Women's tunic tops can be styled in so many ways and all so easily. Adding a wide belt with a shirt dress can create a smart, unique look. It helps to define a waistline and works especially better with plus-size tunic tops. Choose this style for an evening date with your partner or just a Sunday brunch with your girls.
A scarf
If you are looking for a trendy look, you can try wearing a multicolored scarf paired with a black tunic dress and white sneakers. It is an easy-going staple for any outfit that you plan to wear. Drape your scarf around your neck. There are several ways of wrapping scarves. You can check out YouTube videos for further assistance.
Above are some of the best tunic top styling tips that you can opt for depending upon your requirement. Make sure to choose light and comfortable fabric like linen or cotton for a relaxed feel. Women prefer wearing tunic dresses or tops during the summer months.
Tags :