Whether you are just starting out or have been in the business for some time, there are several things you should know when it comes to running your hair salon. These tips will help you ensure that your salon is profitable and thriving.
Location is important
Whether you're opening a new hair salon or relocating your current one, you need to find a good location for your business. Choosing the right spot can make a big difference, both in your ability to make money and in your ability to thrive.
Taking the time to research your possible locations is important. You need to understand the demographics of the area you are considering and the tax policies that will affect your new venture. Depending on how you choose to operate your salon, you may need to hire a real estate agent to help you locate the perfect spot.
The location should be attractive to your customers and your staff. You need to check out parking and traffic conditions in and around the area. Also, you should investigate any regulations that may limit how your salon can look and how you can function.
The location can also affect the number of customers that you will be able to attract. You should think about your budget and how much it will cost to rent or purchase a space. The rent you pay should be fair and reasonable.
The location should also be easy to get to. Many consumers are willing to drive a distance to get routine transactions done. You may also want to consider having a back door for emergencies or delivery services.
You should also consider the safety of the area. You want to ensure that your clients and employees can feel safe and comfortable. You also need to check out the competition in the area. You might have a hard time attracting customers if there are too many other salons nearby.
Walk-ins vs. appointments
Getting people into a hair salon can be tricky. There are a number of factors to consider when deciding whether to accept walk-ins versus appointments. These decisions should be made on a case-by-case basis.
In general, a salon owner should choose to take appointments. This helps avoid scheduling conflicts and helps you maximize your potential customer base. The benefit of appointment-only salons is that clients know exactly when they will receive a service, and they can cancel their appointment if they no longer want the service.
If a salon owner decides to accept walk-ins, he or she should consider creating a specific area for walk-in customers. These areas should be in a location where they can be seen from the front door. This will encourage people to stop by. It will also allow them to see the products on display in the salon.
For some, walk-ins are an excellent way to make money. These customers may come in for a polish change, or they may have a special occasion. The key is to offer express services so that the walk-ins do not have to wait long.
When it comes to appointments, people tend to be late. This means that your stylist may not be available when they arrive. To avoid this problem, it is important to hire employees who are well-mannered and have good techniques. In addition, having an appointment booking system can benefit people who show up on time.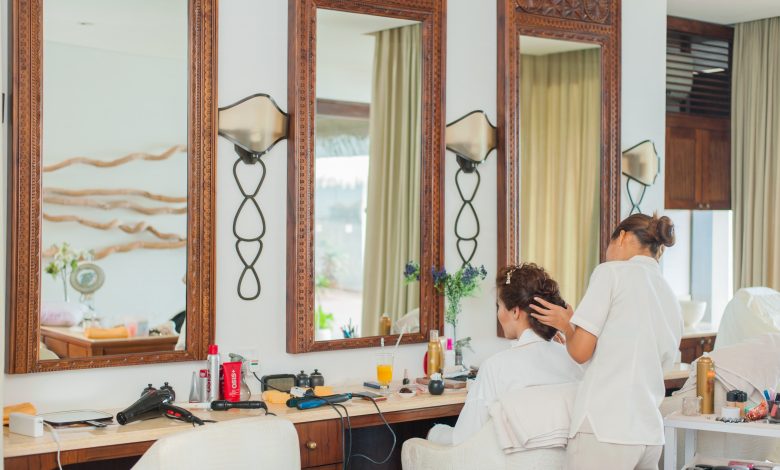 Service menus and business cards
Creating service menus and business cards for hair salons can be an effective marketing tool. The menu can sell the services that you provide, as well as encourage clients to take home products. It can also give customers an idea of what to expect in your salon.
The service menu should be divided into categories and alphabetically ordered. Each category should be descriptive of the type of salon it belongs to. Depending on the services your salon offers, you may want to create a menu that has pictures. You can upload pictures from the Internet or download them from an online resource.
The price list for your salon should be inviting, accessible, and flexible. You don't have to spend a lot of money to create a beautiful, professional price list.
The design should fit in with your salon's atmosphere. For example, if your salon is a barbershop, you can use a black background and white text to match the dark blue lights.
You can also have fun with your design. For example, if you have a funky or edgy aesthetic, consider a brighter color. You could even use a cartoon drawing of a hair stylist to add a whimsical element to your design.
You should also make sure to include all of your important contact information. This can include your phone number, email address, and location. You can also place an appointment reminder on the back of the card to encourage clients to keep it.
Common area maintenance charges
Managing a salon budget isn't easy. You need to make sure you have enough money to get by in case of an emergency. You also need to make sure you have the right insurance.
CAM (Common Area Maintenance) charges are one of the most important expenses a property owner will face. In general, they are charged to the tenant by the landlord as part of the lease. CAM charges are a good example of how the landlord can share some of the costs associated with running a building with tenants. In addition to common area maintenance, there are several other fees to consider, such as property tax.
The best part is that CAM fees are actually quite reasonable. You can find a CAM fee calculator online. Typically, these fees are based on how much space a tenant occupies in the building. For example, a small studio in a small town will be less expensive than a large, modern studio in downtown Manhattan.
The cost of running a hair salon can vary greatly depending on the location, the services offered, and the business model used. However, you can still make your salon attractive without breaking the bank. For instance, you can have complimentary drinks for your customers and play music throughout the space. Similarly, you can provide hand massages for your clients.
The most expensive element of running a hair salon is likely the rent. The monthly rent depends on factors such as the number of customers you expect to have at any given time, the quality of the building, and the foot traffic you receive. In addition to a base rent, you may be required to pay for utilities, cleaning, and even marketing.
High ticket services
Managing a hair salon can be a challenging task. There are several factors to consider when determining your business's revenue. One factor is the number of current clients. If you are trying to grow your hair salon, you must find ways to attract new clients and retain existing ones.
Another important aspect is the cost of running your salon. To be successful in the industry, you must keep your expenses low. You will also need to find other sources of revenue.
One of the best strategies to increase your hair salon revenue is to promote services with a higher ticket. For instance, men tend to get more haircuts than women. This gives you an opportunity to increase your tickets by offering male services.
To encourage customers to come back, you can offer frequent flyer programs. You can also create a newsletter that keeps your clients up to date with promotions.
Another tip to boost your hair salon revenue is to promote the use of gift cards. These certificates can be purchased by customers and are redeemable immediately. Using gift cards is a great way to bring in new customers.
Aside from these strategies, there are many other ways to increase your hair salon sales. Some of these ideas include adding luxe add-ons to your hair salon menu. It is also a good idea to have a high-quality product line.
Developing strong relationships with your clients is also essential. You can achieve this by providing empathetic solutions.
Alternatives to traditional loans
Getting financing for your salon can be difficult. You need a good credit history and financial records to show that you have a solid business plan and a proven track record of performance. Often, you will find that banks are not willing to offer you a loan unless you have been in operation for two years or more.
Luckily, there are alternative lenders that can help you finance your beauty salon. These lenders offer several different types of loans. Some of these include business credit lines, merchant cash advances, and even a start-up loan to cover your costs.
Unlike traditional bank loans, these types of financing allow you to choose how and when you spend your funds. For example, you can use your line of credit for small expenses or pay for training, inventory, or rent. Depending on your needs, you may be able to borrow up to $1 million.
Some of these loans are asset-based, meaning that you will be able to use your company's assets for collateral. Others are unsecured, meaning that you won't need to provide any collateral. In either case, the interest rates will be higher than a standard term loan.
Another option for beauty salon financing is to lease equipment. While leasing is a good choice for a startup business, it can also be more expensive than buying. If you do decide to buy your own equipment, you need to do some research to ensure that you're getting the best value.
Tags :