BLACKPINK, the South Korean girl group, has taken the global music industry by storm with its chart-topping hits and electrifying performances. Among the group's four talented members, Jennie Kim has emerged as a true force to be reckoned with. Known simply as Jennie, she has captivated audiences worldwide with her mesmerizing stage presence, versatile vocals, and impeccable fashion sense. In this article, we delve into the remarkable journey of BLACKPINK's Jennie, highlighting her multifaceted talents and her most recent news-making moments.
Jennie Kim's Early Life and Training at YG Entertainment
From a young age, Jennie displayed a passion for music and performance. Born on January 16, 1996, in Seoul, South Korea, she later spent five years studying in New Zealand before returning to her home country. As of 2023, she is 27 years of age.  Jennie Kim of BLACKPINK was raised as an only child in Seoul, South Korea.
Her parents owned a hospital, and her mother held a top executive position with CJ & M. Jennie lived in Auckland, New Zealand, for five years and attended ACG Parnell College, where she became fluent in English and learned basic Japanese.  She returned to Seoul in 2010 and auditioned for YG Entertainment, becoming a trainee for six years. During this time, Jennie made numerous appearances in music videos and as a featured artist on other songs.
BLACKPINK and Solo Career
Jennie Kim's foray into the K-pop industry began in 2016 when she joined the girl group BLACKPINK. This group's debut album "Square One" was released on August 8th, 2016, and quickly rose to international acclaim, propelling BLACKPINK'S Jennie and her bandmates into the spotlight. Her powerful voice and stage presence were instrumental in establishing BLACKPINK as a genuine force in the music industry.
After BLACKPINK's initial success, Jennie went on to make her solo debut, quickly becoming a sensation. Her hit song "Solo" broke records, generating the highest numbers of views on a music video by a female K-pop artist in 24 hours. In just six months after its release, Jennie became the first South Korean female solo artist to surpass 300 million YouTube views.
Jennie's music career has not been limited to K-pop circles, however; she also made her American television debut in 2022 as the leading actress in the series The Idol. By doing so, she became the first-ever Korean Idol to star in an American drama, solidifying her status as a boundary-breaking star.
Endorsements
Jennie Kim has been a notable influencer in the fashion and beauty industries, particularly in luxury brands. In 2018, Chanel selected her as their beauty model, and later she became the brand ambassador of Chanel Korea.  Similarly, in early 2019, Hera, one of South Korea's prominent luxury beauty brands, chose Jennie to represent their brand.
Her first advertisement for Hera, promoting the Red Vibe lip series, was tremendously successful, with sales reaching five times higher than Hera's previous lip product. The product was so well-received that it began to be identified as "Jennie's Lipsticks" by fans.
A Timeline of BLACKPINK's Jennie and BTS' V Romance Rumors
Origins of the Speculations
Circa 2021, K-pop followers raised eyebrows over the growing connection between BLACKPINK's Jennie and BTS' V. Initially dismissed as a false lead, the couple's subsequent intimate displays of affection forced observers to question the ongoing rumors surrounding the duo.
December 2021: The Instagram Mishap
Jennie and V's 'dating' rumors arose after BTS' V hit the "follow" button on Jennie's Instagram profile, only to unfollow her moments later. V denied the relationship on WeVerse, a Korean community platform for fans.
May 2022: Jeju Island Hopping
There have been rumors circulating about V and Jennie dating, with reports of them being spotted touring Jeju Island together. While some fans have expressed doubts about the validity of these reports and the potential relationship, citing rumors of Jennie's involvement with G-Dragon of Big Bang.
August 2022: The Leak
In August, images and videos of Jennie and V's intimate moments began to go viral on the internet. Amid growing concerns regarding a breach of Jennie's privacy, authorities launched a formal inquiry.
October 22: Jennie's Agency Speaks Up
YG Entertainment, BLACKPINK's agency, issued a statement condemning the violation of Jennie's online privacy and the subsequent online harassment she faced. YG Entertainment has been tracking the case and formally filed a lawsuit in September to sue for losses.
May 2023: Rekindling the Rumors in Paris
Jennie and V were seen strolling through Paris in May 2023, raising rumors about their possible liaison. A French journalist captured their unscripted moment on camera and posted it on social media. Both BTS' HYBE and BLACKPINK's YG Entertainment declined to comment on the matter.
The Power of BLACKPINK's Jennie Kim
BLACKPINK's Jennie Kim is a true force in the K-pop industry, known not only for her musical talents but also her exceptional marketing power. She has topped the "Individual Girl Group Members Brand Power Ranking" for numerous months in a row, according to the Korean Business Research Institute.
In Gallup Korea's annual Most Favorite Idols survey, she ranked second in 2018 among 1,500 Korean men and women aged 13 to 29. Instagram also recognized Jennie's influence, awarding her as the "Most Loved Account of 2018" in South Korea. This recognition was based on the number of likes and views of Jennie's Instagram posts and stories. Forbes also acknowledges Jennie's significant impact on Korea's beauty trends.
Her contribution to the trend propelled BLACKPINK to the top of Forbes Korea Power Celebrity in 2019. Jennie's talent and influence are unmatched, cementing her status as a powerful and impactful influencer in the K-pop and beauty industry. For the second month in a row, Jennie of BLACKPINK took first place in the rankings for girl group members' brand reputation in February 2023.
Jennie continued to hold on to second place, with a brand reputation index of 4,485,463, which increased by 1.56 percent compared to January.
BLACKPINK's Jennie Kim Wows Fashion Critics at The Idol's Cannes Premiere
Jennie Kim, the 27-year-old singer, stunned attendees at the Cannes Film Festival with her excellent sartorial choices. Her debut acting in the upcoming HBO series The Idol was promoted at the premiere event. Jennie opted for a flawlessly tailored, mid-length Chanel gown in ivory, crafted by Virginie Viard after Karl Lagerfeld's passing. Viard used a cotton/linen mix and embroidered tulle to create the museum-worthy gown.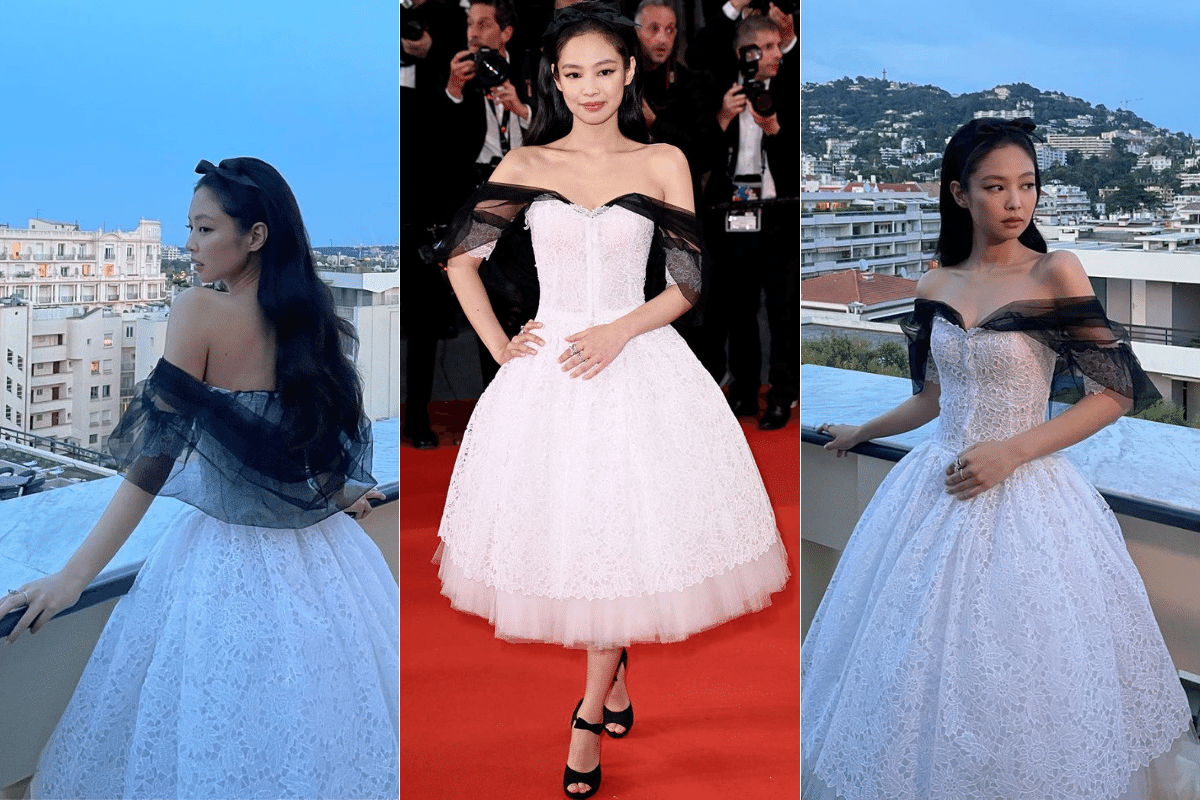 The ensemble was a success, with Jennie exuding elegance and grace as she posed on the illustrious Cannes Film Festival's red carpet. Jennie previously collaborated with Chanel and her recent appearance at the Met Gala, dressed in Chanel attire, shows her loyalty to the high-end fashion house.
BLACKPINK Jennie's Charitable Efforts
Animal Protection
From 2017 onwards, Jennie of BLACKPINK has actively participated in the "Protect Our Family" campaign by Cheongdam Woori Animal Hospital, which aims to rescue homeless animals and provide them with new loving homes.
Wildfire Relief
Kim and her fellow members of Blackpink made a donation of ₩10 million each to support the victims of the wildfire that took place in the Gangwon Province of South Korea in April 2019. Their contribution was made through the Hope Bridge Association of the National Disaster Relief.
Bottom Line
Jennie Kim of BLACKPINK has climbed the ranks from trainee to global superstar. Her immense talent and unwavering focus have inspired fans around the globe. Recently, she drew attention for her performance on The Idol as well as her fashion choices at the Cannes Film Festival, demonstrating her versatility and dedication to excellence.
In addition to her career, Jennie actively engages in charitable work, demonstrating a deep commitment to making a positive impact on society. We can rest assured that Jennie will continue to innovate and inspire as she blazes a trail through the music industry and beyond.
Tags :