Darren Watkins Jr. also known as IShowSpeed is an American YouTuber and social media star. He is popular for playing NBA 2K and has over 8 million subscribers on his YouTube channel.  The estimated IShowSpeed net worth is anywhere between $10 to $12 million, according to numerous sources.
Birth and Early Years
Ishowspeed was born in Cincinnati, Ohio, in the United States on January 21, 2005, and he has lived there for the most of his life. He has a strong bond with his sibling(s) with whom he was brought up. Darren was enthralled by YouTube and the internet world as a child, especially video games and digital gaming. So it was only natural that he chose to play video games while he wasn't in class.
Speaking of education, Darren is a high school student who has not said that he intends to pursue post-secondary study. In order to devote more attention to his job, he really thought about quitting high school. He used to have a part-time job delivering meals to the elderly residents of a nursing home before he became famous as an online gamer.
YouTube
His friend's encouragement to begin posting videos to YouTube was the spark that set off his entire online presence. While Ishowspeed did launch his channel in March 2016, he didn't start taking it seriously until April 2020. His plan was driven by his desire to alleviate the boredom he felt during 2020 by engaging in some form of entertainment. He decided to leave his work at the nursing home in order to devote more time to exploring YouTube and developing his own videos.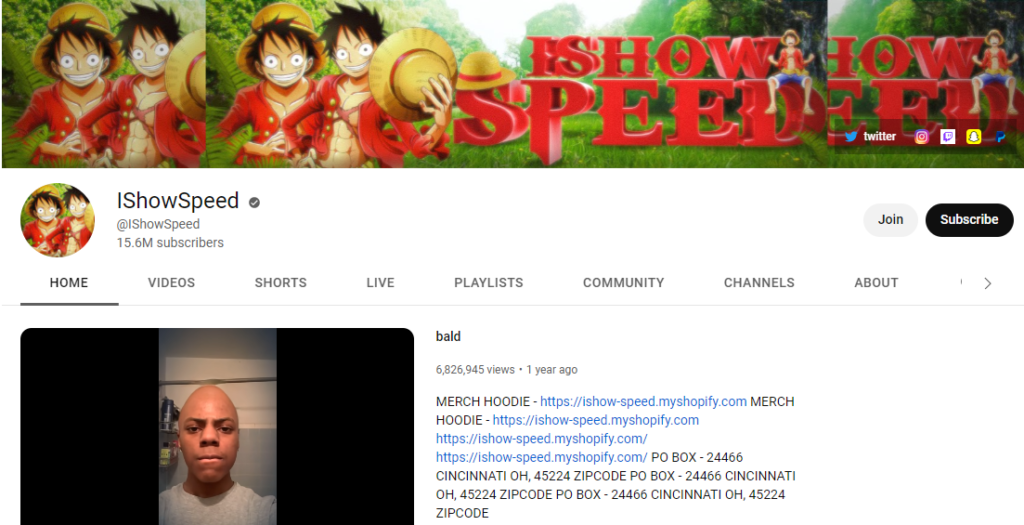 Darren saw a chance to capitalize on his love of playing NBA 2k20 and 2k21 video games, which few other players would make videos for. As a result, he started to upload videos of himself playing the two games, and as a result, he amassed a huge following. Eventually, Speed branched out from only playing Fortnite and Five Nights at Freddy's and began streaming other games as well. The simple act of including these games led to an increase in his fan base. Speed is one of the fastest-growing YouTubers in the world after amassing over 1 million subscribers in less than a year in June 2021.
His fan base began posting clips of his live streams to social media applications like TikTok, where they quickly became viral. This helped propel him to even greater fame. The focus of his channel is not just on video games. He shares videos of himself rapping and singing along to popular songs. The originality of his channel and the breadth of the content he produces are largely responsible for his rapid rise to YouTube fame and his subsequent fortune. Due to his growing popularity, Speed decided to relocate to the sunny city of Los Angeles and live with fellow Twitch broadcaster Adin Ross. He also has a "Live Speedy" YouTube channel, which launched on June 2, 2021. He shares highlights from his prior live streams as well as brief snippets on this channel.
Twitch Ban
It was December of 2021, and he was on Adin Live, a Twitch dating program. He was asked to join the show since it featured some of the best American players in online video games. He handled his feelings for Ash Kash, another contestant and popular social media personality, in an ugly way. Darren made unwelcome moves toward her online, and when she rejected them, he got increasingly violent.
As a result of his actions, he was permanently banned from the Twitch site, which harmed his online gaming reputation, given that Twitch is a venue for competitive online players. After yet another sexist tirade, Darren was banned from all Riot Games in April 2022. He issued an apology through Twitter on April 7. IShowSpeed said, "I was mistaken." He continued, "I was utterly incorrect in that circumstance." This tweet suggests that Darren has also been permanently kicked out of the popular video game Fortnite.
IShowSpeed's Net Worth and Income Sources
As a result of his YouTube channels and the AdSense money they generate, IShowSpeed net worth is an estimated $10–$12 million. Other than that, Speed makes a respectable living off of endorsement deals and the tips and contributions he receives from his online audience. According to Speed, his earnings each upload range from $75 to $200, depending on how long his streams last. According to Social Blade, IShowSpeed generates around $16,000 in monthly revenue from AdSense. Based on his average of 8.43 million views per month and around 614,382 views per day, Net Worth Spot believes IShowSpeed makes an estimated $1.11 million per year from his channel's AdSense.
At an estimated $3-$7 per thousand views, IShowSpeed's YouTube channel has the potential to earn $73,000 per month and over $1-$3 million annually from advertising. There have been reports that Speed makes between $2 and $4 million a year through YouTube. What makes IShowspeed stand out is the unusual way he engages with viewers throughout his live broadcasts. During his broadcasts, he is known to yell, bark, and sometimes shout at the camera, which usually gets a notable reaction from his viewers. He also seems to take great pleasure in discussing the steady increase of his subscription base and how proud he is of himself
Brands may want to approach Speed to market their products because of his massive fan base. Speed is affiliated with a wide variety of well-known online companies. We can only speculate at this point as to how much he could want for advertising space, but we imagine it to be quite a bit.
Speed has the potential to make almost $15,000 every video on TikTok. Unlike YouTube, where you can earn money by selling advertising space on your movies and channel page, TikTok currently does not pay its users for displaying advertisements alongside their uploaded photographs.  To this end, TikTok does not provide a middleman or predetermined pricing for influencers and brands who desire to collaborate. Although the exact earnings per post agreed upon by businesses and influencers can vary widely according to the specifics of each partnership, this figure is widely accepted as being quite close to the mark.
IShowSpeed Expenditure
Speed has been seen driving a blue Lamborghini Urus and has also uploaded pictures of the car on Instagram. The automobile may start at prices as high as $230k, according to its 2023 assessment. Apart from this, not much is known about IShowSpeed's spending for real estate, additional vehicles, or any other assets at this time.
Conclusion
IShowSpeed's net worth is between $10 and $12 million and his new worth is going to see a steep increase owing to his popularity.
Tags :