Wedding Favor Bags are an attractive and cost-effective solution to your favor packaging needs. They are manufactured with paper, kraft, and cardboard and can be customized in versatile shapes and styles as per demand. They can be availed in all colors and adorned with desired illustrations and texts with endless printing options. Uniquely shaped die-cut labels can be added to them while the information can be printed on them with fascinating fonts. Their surface can be coated with a variety of laminations as well as metal foiling. You can get them decorated with additional embellishments such as ribbons, flowers, etc. for extra fanciness.
The occasion of weddings is never complete without serving delightful favors to the guests, and this ritual is best completed with attractive wedding favor bags. They offer an alluring presentation to the favors and represent the luxuriousness of the event with their fancy appeal. Here is how you can design these bags in the most fascinating way and make them admirable for all your guests.
Trendy Shapes:
The best thing that you can do to your favor bags is to give them some trendy and unique shapes. The flexibility of their materials enables you to customize them in any shape and style that you may imagine. How about getting them made into the shape of toffee and closing their edges with attractive ribbons and colorful ropes? Cute little triangular shaped standup pouches will also work great when printed with eye-catching designs and amazing colors. You can even give them the shape of the old coin pouches to have a classic and nostalgic appeal. So there are endless customization possibilities in front of you to give your Personalized Wedding Favor Bags an unusually charming appeal that everyone would admire. Giving creative shapes and styles to your bags will help you serve the traditional favor distributing ritual in a way that no one would forget any time soon.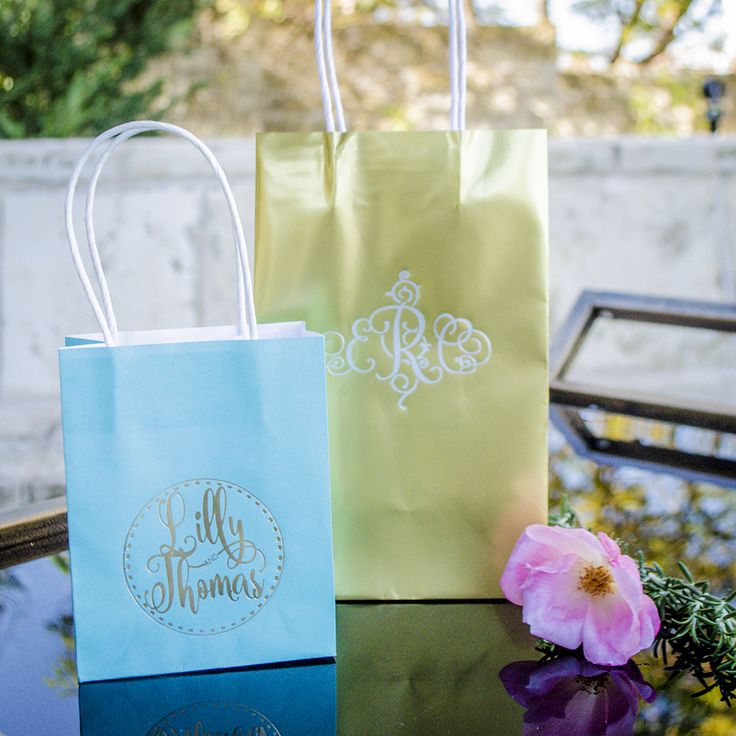 Alluring Patterns:
The surface of these bags is adaptable to any kind of custom designs, illustrations, and patterns that you would like to have on them. From the base color to the hues of designs and texts, you have the liberty to choose them all. You can either have floral prints on them or get them printed with abstract designs. Doodle images of the couple can be adorned on them while the wedding themes can also be portrayed with desired printing options. Digital printing enables you to have any kind of color on them while the metal foil stamping adds a touch of luxury with its gleaming effects. You can also give embossed and debossed effects to your designs and quotes to make them look more interesting. The creativity of your designs and digitization of unique printing options will let you amaze your guests with the most admirably presented favors.
Attractive Typography:
Typography is something that can change the whole aura of your wedding favor gift bags. Using a stylish font for the name of the couple or greetings will look highly amazing while keeping it bold will make it more highlighted. A handwritten font will have an even more whimsical and chic impression. The composition of the text matters a lot in creating an impact on the readers. As the weddings are associated with everything fancy and luxurious, getting the content printed with metal foil stamping will make them stand parallel to the nature of the event by giving them an extravagant appeal. Another great option is to give them embossed effects as it looks quite detailed and attractive.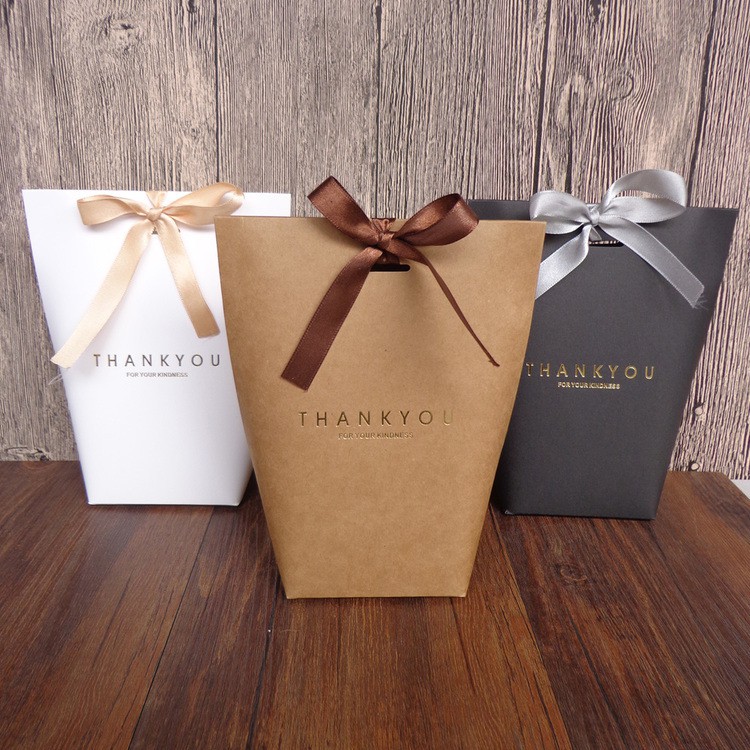 Unique Die-Cut Labels:
To further add to the presentation of your delight cookie favors, you have the option of including uniquely shaped die-cut labels on the Wedding favor cookie bags. These labels can be crafted in desired shapes such as a wedding bell, a bow, a butterfly, a cookie, or any feature of your choice. The unique shapes can be printed with anything you want to convey to the guests. It is usually seen that the labels are printed with the names of the couple and the wedding date, but you can have a different approach and make them more interesting for the guests by including some amazing facts about the love journey of the couple. It will be quite exciting for the guests, while another great way to appreciate the presence of the guests is to have special greetings for them on the favor bags, such as thank you for coming or some other lovely quotes.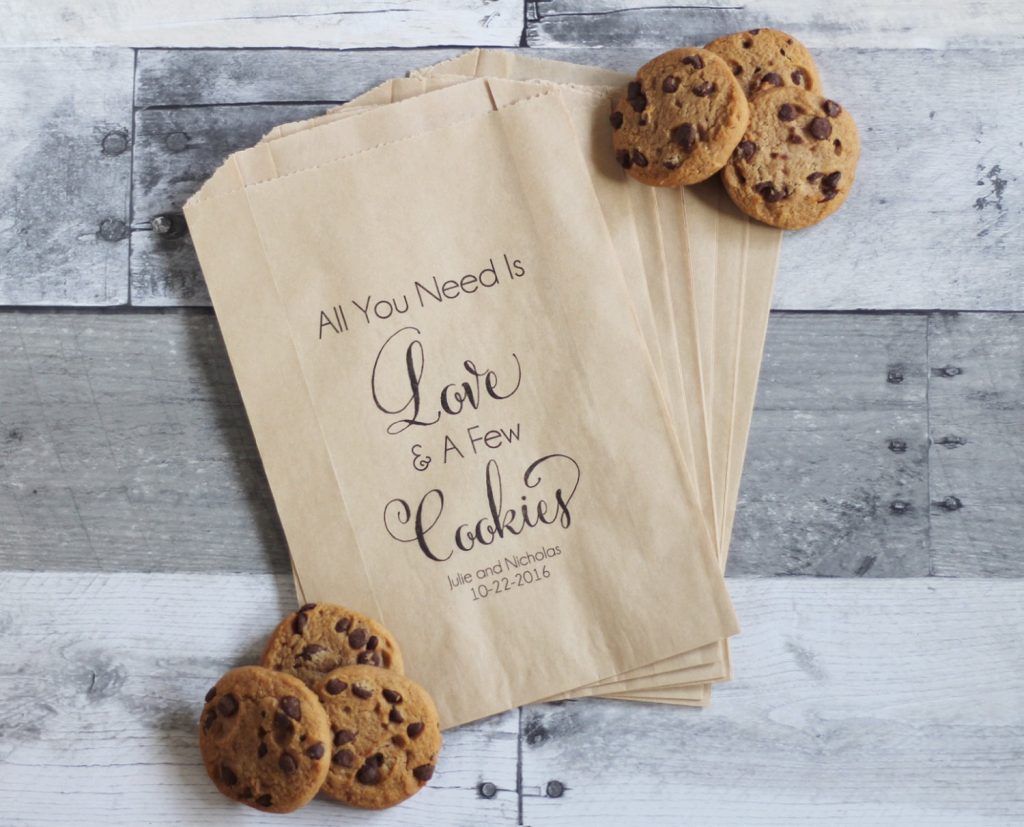 Fancy Embellishments:
You can play as much with the customization of your wedding favor candy bags as you want to be. Besides adorning them with creative patterns and interesting quotes, you can also add extra decorative features on them, such as artificial flowers, colorful ribbons, gleaming sparkles, decorative tapes, or any other fancy ornament that can add to their alluringness. It will help you make your favor bags even fancier that everyone would admire to receive. Paying great attention to every single detail about them would give an unforgettable experience to your guests and make your event memorable to them for the longest period of time.
Being creative with the customization of your Wedding Favor Bags will earn you immense appreciation from your guests. The alluringness of these bags will add to the whole aura of the event and make an everlasting impression on the guests.
Tags :