Whether you're a new company or just opening a new location, you understand the importance of advertising at your physical location. New business signage can increase your visibility, in turn driving foot traffic to your location without breaking the bank. Here are 4 effective products to help you get started on advertising your products/ services at your new location – all starting at under $100!
1) Vinyl Banners
The most cost-efficient way to attract attention at a new location is a vinyl banner, which you can order from just $29.00! Traditional business storefront signage can prove to be very expensive and is notorious for taking a long time due to the permitting process. Therefore, many companies utilize vinyl banners as temporary signage usually reading "Now Open" during the interim. Our vinyl banners are durable and UV/ Waterproof, making them perfect for both indoor and outdoor use. We offer many custom finishing options like reinforced corners, pole pockets, grommets, wind slits, velcro, webbing, and ropes so you can attach your banner, the way you prefer. You can also customize your banners with any finishing options not listed on our site and we will do our very best to accommodate your requests. All of our vinyl banners are digitally printed at high resolution meaning you'll never have to compromise on your design.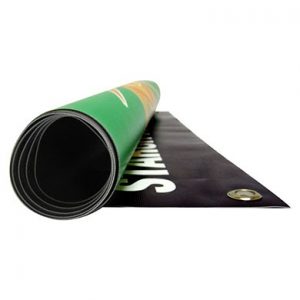 2) Flag Banners
Flag Banners are another great bang for the buck and are a well-known method to get the job done. You see them everywhere calling your attention to a nearby establishment or letting you know that a business is "Now Open". The great thing about flag banners is that they can double as wayfinding signs helping potential customers on the street to quickly locate your business. Flag banners are extremely effective because they tend to stand out – no pun intended. They stick straight up out of the ground and go up to 17ft in height, making them practically impossible to miss. Starting at $99, they make a great investment as they tend to last over a year in some cases and come with a 12-month warranty. With interchangeable bases, flag banners can be used both indoors and outdoors, widening the options for usage. We offer both single and double-sided flags depending on your needs. Our flag banners are also digitally printed in high-resolution full color on a waterproof and UV safe polyester material. 
3) Pole Banners
The most attractive and sophisticated signage type you can get for under $100 is a Pole Banner. Printed on a heavy-duty 20oz vinyl material, pole banners are made for the outdoors and can withstand the elements and are both UV and waterproof just like the previous two options. For an even more premium look, you can opt for fabric pole banners which have even more flexibility to withhold extreme weather conditions. Street pole banners come in both single and dual set with the option to print on one or both sides. Lush Banners offers four different widths for pole banners ranging from 18" to 36", each with 6 different height options. The solid fiberglass arms and all-metal brackets come with a 2-year warranty. Pole pockets and grommets come standard with your order as well. 
4) Mesh Banners
Mesh banners are basically the subtype of Vinyl Banner. These are digitally printed using eight-ounce and ten-ounce vinyl in full color. This type of banner is wind resistant and hence are best for outdoor use. Mesh banners are printed on a polyester material, allowing sound and air to blow through. Crisscrossed fibers are here that you can see to a certain extent and still it has a printable surface. The best thing about this type of banner is that you can add unlimited colors, text, photographs, and clipart. For standard finishing, it includes heat-welded helms.  
Mesh banners are a bit costly as compared to vinyl. 
Mesh banners also have some advantages as well as disadvantages. Benefits like – Lightweight, tearing resistance, allows air to pass through, and most importantly longer life span.  And the disadvantage is that you can print only on one side of the banner. 
Do you know the most common banner sizes? 
2' x 4'

3' x 6'

4' x 6'

5' x 10'

2' x 6'

3' x 8'

4' x 8'

5' x 12'

2' x 8'

3' x 9'

4' x 10'

5' x 20'

2' x 12'

3' x 12'

4' x 20'
Tips for creating innovative business signage
Color that attracts the customer
The color which you like might not be the one which is appreciated by everyone. What you need to do is selecting a perfect color to create beautiful signage.
Color is the first thing that is seen everyone after that a person reads the text written on the banner. According to a study, more than 80% of brand recognition is done with the help of colors only. The best match is always a pairing of a lighter shade of letters against a darker background. Vibrant colors that are in trend can significantly drive more attention than others. Don't mix too many colors in a single frame, it will always confuse your customer and can irritate him. 
Select font that can be read from a distance
Font style is the key to marketing, so select it wisely. Our eyes can read faster when the font style goes well with the color. The reading quality of your banner should be very good so that a person can read it from a fairly large distance. Don't use heavy fonts it can disturb the entire look and readability. Also, there is a common misconception that the use of capital letters to cover your complete text in the signage would increase the readability. The most common fonts which are used for designing are Helvetica, Display Fonts and Serif. 
Reading about all of these different affordable options should hopefully have gotten your gears turning and thinking about how you can use any one of them to take your advertising to the next level. Combined with some imagination, you can transform your business and attract new customers in a heartbeat and start turning a profit on that snazzy new business you just opened up. 
What are you waiting for? Start making a profit. 
Tags :